I would really like to have known Aunt Eliza Eggleston Barron. The glimpses we have of her, especially from her letters, give me the impression she was quite spunky and would have been an entertaining storyteller. Her life was not necessarily easy and was not very long.
Eliza's Early Life
Eliza Eggleston Barron was born March 25, 1810 in Marcellus, Onondaga, New York. Family records had estimated her birth as 1802, but there appeared to be confusion with her sister Electa. Eliza was the youngest daughter in the family. In genealogical information sent by Orson to his father in 1876, he gave this birth date for Eliza. Eliza died November 4, 1869.
Eliza married Carr D. Barron May 9, 1840 in Owasco, Cayuga, New York. He was born February 15, 1809 in Owasco, Cayuga, New York. Eliza and Carr Barron moved from Springwater, Livingston, New York to Michigan, apparently before her sister Electa and family came.
Glimpses of Eliza's Life through Letters
Much of the sense I get of Eliza's personality, I gain from a letter she wrote to her brother Samuel June 8, 1862 from Groveland, Michigan. She wrote:
Groveland, June 8, 1862

"It is a long time since I have written to you. You must excuse my neglect for it is quite a task for me to write a letter. My health is not very good but I work some and attend to my business. Carr's health is poor but he works as hard as ever. Two years ago last fall he had a fit of the palsy, the second one. It was a long time before he could work much. It hurt his speech and memory but we are mortals subject to decay. I suppose you will want to know about the children. Almon will be 21 in August next. Mary was 19 in April and Sarah 17 in May. Barton is 10. They are healthy children and a great help to us."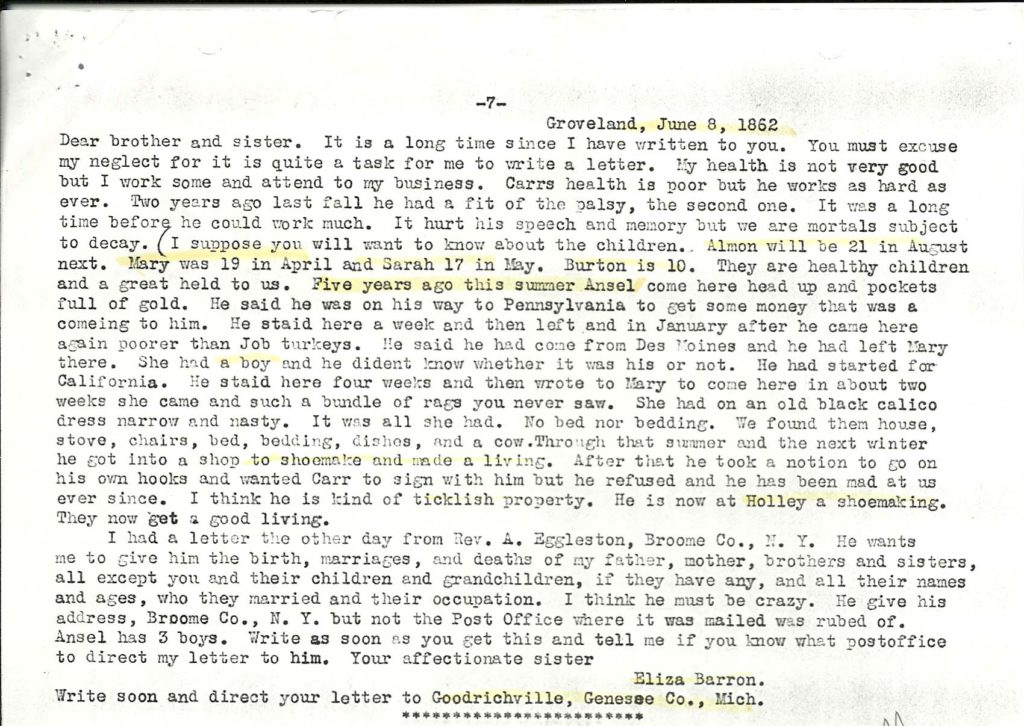 After this general family news and health report, she told her brother Samuel about other family members. This is what she had to say about their younger brother Ansel:
"Five years ago this summer Ansel come her head up and pockets full of gold. He said he was on his way to Pennsylvania to get some money that was a comeing to him. He staid here a week and then left and in January after he came here again poorer than Job turkeys. He said he had come from Des Moines and he had left Mary there. She had a boy and he dident know whether it was his or not. He had started for California. He staid here four weeks and then wrote to Mary to come here in about two weeks she came and such a bundle of rags you never saw. She had on an old black calico dress narrow and nasty. It was all she had. Ne bed nor bedding. We found them house, stove, chairs, bed bedding, dishes, and a cow. Through that summer and the next winter he tot into a shop to shoemake and made a living. After that he took a notion to go on his own hooks and wanted Carr to sign with him but he refused and he has been mad at me ever since. I think he is kind of ticklish property. He is now at Holley a shoemaking. They now get a good living."
Later in the later she mentions, as if she forgot and then just remembered, ""Ansel has 3 boys." Eliza also shared with Samuel some information about a contact with another Eggleston regarding genealogy. She seemed to want direction from Samuel about how to respond to this person.
"I had a letter the other day from Rev. A. Eggleston, Broome Co., N.Y. He wants me to give him the births, marriages and deaths of my father, mother, brothers and sisters, all except you and their children and grandchildren, if they have any, and all their names and ages, who they married and their occupation. I think he must be crazy. He give his address Broome Co., N.Y. but not the Post Office where it was mailed was rubbed off. . . Write as soon as you get this and tell me if you know what postoffice to direct my letter to him. Your affectionate sister

Eliza Barron

Write soon and direct your letter to Goodrichville, Genesee Co., Mich."
If this Rev. A. Eggleston was crazy, as Eliza says, then I must be too. I understand the mindset of a genealogist trying to gather family information. In fact Eliza's nephew Orson asked for the same kind of information when he visited her family while on his mission.
Eliza's Passing
In a letter to Samuel dated March 5, 1873, their brother Ambrose wrote that he did not know where Eliza was. "I have had no correspondence with her since I moved into Allegany." Apparently they had not kept in touch, and he was not aware of her death. At the time Orson was on his mission in Michigan in 1876, Eliza was dead. He did spend some time there with his Uncle Carr and cousins.
Eliza Eggleston Barron died of cancer November 4, 1869 in Groveland, Oakland, Michigan. Unfortunately her death record does not give her parents names and has her birthplace as New Jersey, not New York.

Eliza was buried in the Ortonville Cemetery in Oakland County, Michigan. There is a large Barron marker there.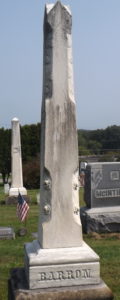 After Eliza's death, Carr married Sarah M. Beach Thurston March 2, 1870. She was born July 6, 1812 in Gates, Monroe, New York. They had no children.