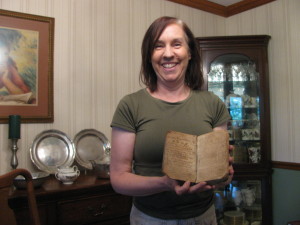 How many people have the opportunity to hold in their hands something ancient that has been handled by at least nine generations of ancestors? Being a genealogist and museum person, this was pretty close to heaven for me.
I first learned of the "herbal" over twelve years ago. Through genealogical research I had become acquainted with many "cousins," some much more distant than others. Through these contacts, I gained some wonderful information and was able to share information with others. Putting these pieces of information together helped us all learn more and created a more comprehensive family history.
Early in 2002, I got an email from a cousin, Lucinda, who had seen my post on a surname list. Two days later she emailed me two images which blew my mind.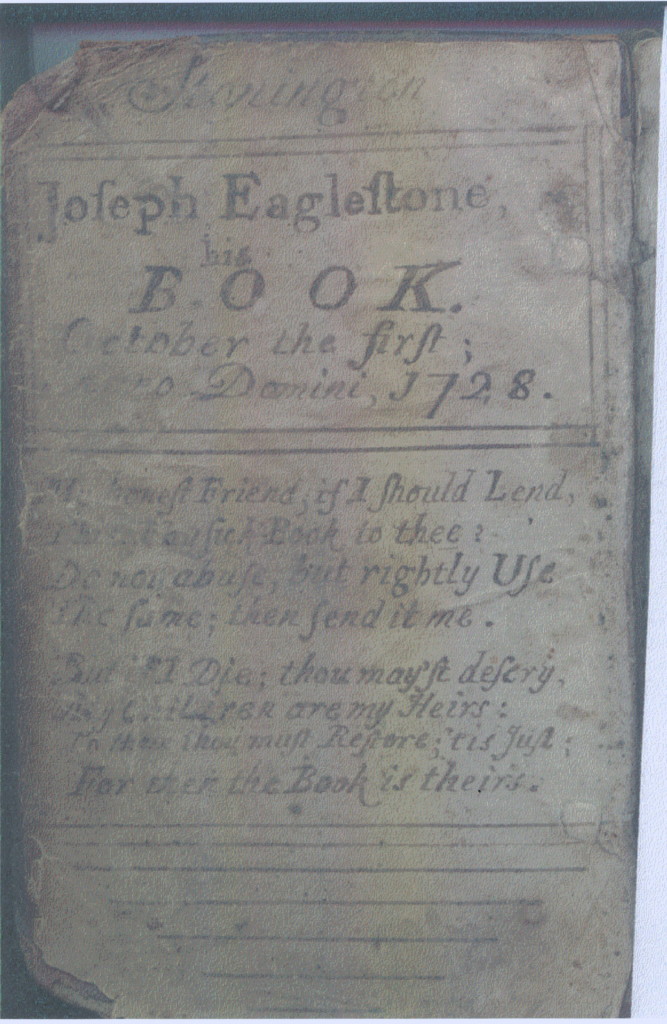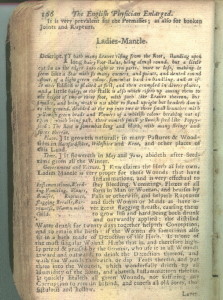 I knew well from my research that this Joseph Eaglestone who was of Stonington, Connecticut in 1728 was our common ancestor. To know that a book which had belonged to him existed, still intact, and in the possession of a relative was amazing. This is what she told me about this book:
1 – It is bound in leather – leather very worn.
2 – The title page of the book is missing.
3 – The title is "The English Physician Enlarged – title at top of each page.
4 – The book measurements are about 7 inches tall, 4 1/2 inches wide, 1 2/2 inches thick.
5 – The Joseph Eaglestone inscription is written on the back of the front cover.
6 – It has 347 pages.
7 – The herbs are listed in alphabetical order.
8 – It was probably printed in England since the places listed where the herbs grow are in England.
9 – The book did not necessarily come from England with an Eggleston, for in 1728 America was a Brittish Colony and items were shipped from England and sold in America. (Lucinda did not know what years this book was printed in England)
10 – It is still legible.
This book had been handed down in Lucinda's family and she was the current owner. She had traced her line – and the ownership of this book – back to Joseph Eggleston of Hebron, New York. This Joseph died in 1812. His son, Joseph H. Eggleston, was the first person she knew to have owned the book.
I approached the history of this book from the other direction. I had learned a bit about this Joseph Eggleston of Stonington. The first mention of him was as a witness of a deed in Rhode Island in 1715. This Joseph, who was at the time of South Kingstown, Rhode Island, bought land in Stonington, Connecticut – 100 acres on Wakaquidok Brook – on June 28, 1723. After his death in 1767, Joseph's land was divided up among his three sons, Isaac, Ichabod, and Joseph. Joseph of Stonington did not leave a will, but his sons all did. Joseph's will had an accompanying inventory filed with Stonington Deeds. Listed among his property was: 1 Old Bible, Testaments, Hymn Book and Doctor Book. It seemed very likely that this "doctor book" was the book of herbal medicine that his father had owned and inscribed in 1728.
The link to Joseph of Hebron was not at first obvious, however. There were so many Joseph Egglestons that previous researchers and other family members had mixed them up. All three of the brothers – Isaac, Ichabod and Joseph – had sons named Joseph. One was a Revolutionary War Soldier and had been claimed by descendants of both Ichabod and Joseph. Some of Isaac's sons had migrated to Washington County, New York leading some genealogists to make the claim that "all of his sons" had gone there, including the Joseph who resided in Argyle in 1800. Some had even claimed that this Joseph in Argyle in 1800 was the same person as Joseph of Hebron. Later we found the will of Joseph of Hebron which indicated he was a rather young man with five small children, so was obviously a generation later than the Joseph who was Isaac's son. The land records eventually helped me to sort it all out and prove that Isaac's son Joseph remained in Connecticut, living on land his father had left him. Ichabod's Joseph was the Revolutionary War Soldier who also remained in Connecticut. Therefore, it was Joseph's son Joseph who went to Washington County, New York and then in 1805 to Onondaga County, New York, leaving behind in Washington County, his adult son Joseph who died in Hebron in 1812.
So the herbal appears to have been passed down from one Joseph to another – From Joseph of Stonington (1823 deed and 1767 death) to his son Joseph (will dated 1801 with the inventory mentioning a doctor book), then probably to his son Joseph who took it to Washington County, New York. He could have given it to his son Joseph (of Hebron) while he was still living, but since the son died before the father, he might have passed it directly to his grandson, Joseph H. Eggleston.
I was content to have these images of this book and to know it was in good hands. Lucinda and I talked about the possibility of placing it in an archive, but she lived in Missouri, which had no connection to the book. We both felt it should more appropriately be in Connecticut. She kept it, and apparently kept good care of it.
In 2011, my daughter and her family moved to Illinois. My husband and I drove back to visit a short time later. We decided to make the return trip through Missouri which placed Lucinda's home along our route. I had finished and printed a large book on Eggleston family history months before and planned to deliver a copy to Lucinda, which would give me an opportunity to finally meet her – and to see the herbal.
So on June 27, 2011 we arrived at Lucinda's home. It was wonderful to meet this cousin, who had also spent many years researching family history and loved our ancestors as much as I did. There on her dining room table was this precious book which she let me hold.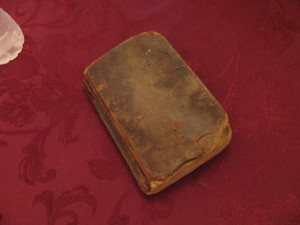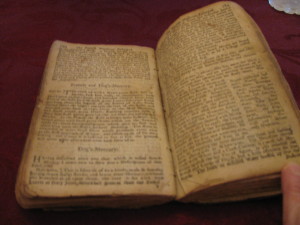 On June 26, 2015 I learned through a Facebook post that dear cousin Lucinda had passed away. Her granddaughter said she could imagine her delight at meeting the ancestors she had come to know through research. I can imagine and anticipate that reunion myself. I am grateful to Lucinda for her dedicated research and her tender care of this precious family artifact.