Orson Hyde Eggleston journaled his experience of the settling of Afton Wyoming. Part two covers January and February of 1886.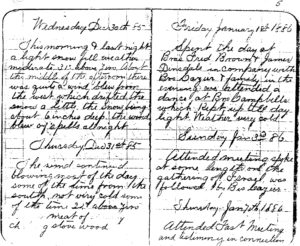 Friday January 1st 1886
Spent the day at Bro.'s Fred Brown and James Dinsdale in company with Bro. Cazier and family. In the evening we attended a dance at Bro. Campbells which kept up till day light. Weather very cold.
Sunday Jan 3rd 86
Attended meeting spoke at some length on the gathering of Israel, was followed by Bro. Cazier.
Thursday Jan 7th 86
Attended Fast Meeting and testimony in connection with others had a very good meeting. Weather cold and clear about 8 inches of snow on the ground clouded up in the evening.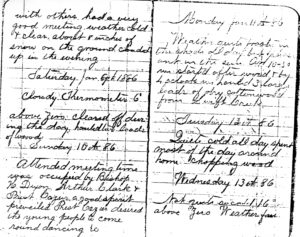 Saturday Jan 9th 1886
Cloudy thermometer 6 o above zero. Cleared off during the day. Hauled two loads of wood.
Sunday 10th 86
Attended meeting time was ocupied by Bishop H. Dixon, Arthur Clark and Pres. Cazier. A good spirit preveiled. Prest. Cazier desired the young people to come round dancing to.
Monday Jan 11th 86
Weather quite frosty in the shade all day but pleasant in the sun. Abt 10:30 we started after wood and by 4 o'clock hauled 3 large loads of dry cottonwood from Swift Creek.
Tuesday 12th 86
Quite cold all day spent most of the day around home chopping wood.
Wednesday 13th 86
Not quite so cold 16 o above zero. weather fair.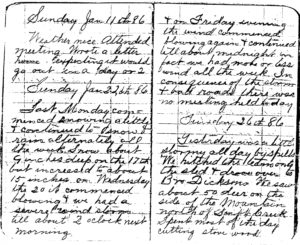 Sunday Jan 11th 86
Weather nice. Attended meeting. Wrote a letter home. Expecting it would go out in a day or 2.
Sunday Jan 22 86
Last Monday commenced snowing a little and continued to snow and rain alternately all the week. Snow about 9 inches deep on the 17th but increased to about 15 inches on Wednesday. The 20 it commenced blowing and we had a severe wind storm till about 2 o'clock next morning and on Friday evening the wind commenced blowing again and continued till about midnight in fact we had more or less wind all the week. In consequence of the storm and bad roads there was no meeting held today.
Tuesday 26th 86
Yesterday was a little stormy all day by spells. We hitched the team onto the sled and drove over to Bro. Dicksons. We saw about 50 deer on the side of the mountain north of Swift Creek. Spent most of the day cutting stove wood.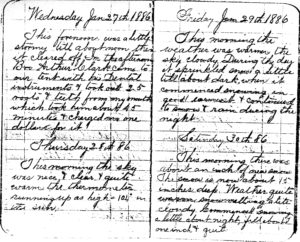 Wednesday Jan 27th 1886
This forenoon was a little stormy till about noon then it cleared off. In the afternoon Bro. Arthur Clark came to our tent with his Dental instruments and took out [2 5?] roots and teeth from my mouth which took him about 45 minutes and charged me one dollar for it.
Thursday 28th 86
This morning the sky was nice and clear and quite warm the thermometer running up as high as [104?] in the sun.
Friday Jan 29th 1886
This morning the weather was warmer the sky cloudy. During the day it sprinkled snow a little till about dark, when it commenced snowing in good earnest and continued to snow and rain during the night.
Saturday 30th 86
This morning there was about an inch of new snow. The snow is now about 15 inches deep. Weather quite warm snow melting a bit cloudy. Commenced snowing a little about night, fell about one inch and quit.
Sunday Jan 31st 1886
Thermometer 28 o above zero clouds broken. Weather pleasant. Attended meeting which was addressed by A. B. Clark, Wm Treasure, Fred Brown, Prest. C. D. Cazier and myself. A good spirit prevailed.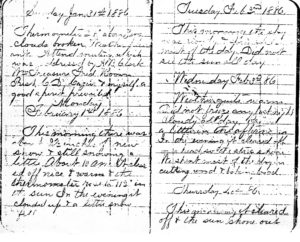 Monday February 1st 1886
This morning there was about 2 1/2 inches of new snow and still snowing a little. About 10 a.m. it cleared off nice and warm the thermometer rose to [112?] in the sun. In the evening it clouded up and a little snow fell.
Tuesday Feb 2nd 1886
This morning the sky was cloudy and sprinkled most of the day. did not see the sun all day.
Wednesday Feb 3rd 86
Weather quite warm. Did not freeze any last night. Cloudy all day. Rained a little in the afternoon. In the evening it cleared off so much so the stars shone. We spent most of the day in cutting wood and baking bread.
Thursday 4th 86
This morning it cleared off the the sun shone out clear and bright a cool breeze from the north. Attended Fast meeting at 11:30 had a good meeting.
Saturday 6th 86
Weather has been pleasant for several days. Friday I wrote a letter home and one to Peter Johnson. Bro. Cazier started to the Lower Valley to administer to Sister Francis. Requested me to take charge of the meeting on Sunday.

Sunday Feb 7th 86
Weather rather pleasant. Had a good meeting time occupied by Elders Sant, Phillip, Nilson and Hurd. I spoke about 30 minutes in the class on our duties as Saints a good spirit prevailed.
Tuesday Feb 9th 86
Yesterday and today the weather was clear and nice. Today Corniel & me went over to his house & sawed out the windows and doors. Snow about 18 inches deep. Wednesday was mostly spent cutting wood at home. Sky cloudy but warm.
Thursday Feb 11th 86
Sky cloudy in the morning cleared off during the day and was very warm. Went over to Corniel's house and brought over the logs we had sawed out and commenced to rip them out with a hand saw to make some window and door frames.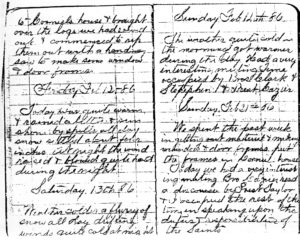 Friday Feb 12th 86
Today was quite warm and rained a little and sun shone by spells all day. Snow settled about four inches. At night the wind raised and blowed quite hard during the night.
Saturday 13th 86
Weather colder a flurry of snow all day drifting winds quite cold at night.
Sunday Feb 14th 86
The weather quite cold in the morning got warmer during the day. Had a very interesting meeting. Time occupied by Bro's. Clark and Stephens and Prest. Cazier.
Sunday Feb 21st 86
We spent the past week in getting out material and making window and door frames. Put the frames in Corniel house. Today we had a very interesting meeting. Bro. Cazier read a discourse by Prest. Taylor and I occupied the rest of the time in speaking upon the duties and responsibilities of the Saints.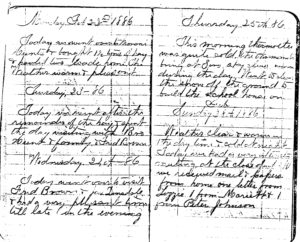 Monday Feb 22nd 1886
Today we went over to Moroni Hunts and bought 1 1/2 tons of hay and hauled two loads home. The Weather warm and pleasant.
Tuesday 23 86
Today we went after the remainder of the hay and spent the day visiting with Bro. Hunt and family and Fred Brown.
Wednesday 24th 86
Today went over to visit Fred Brown and Jas Dinsdale and had a very pleasant time till late in the evening.
Thursday 25th 86
This morning thermometer was quite cold the thermometer being at zero. Sky clear & warm during the day. Went to clear the snow off the ground to build the school house on.
Sunday 28th 86
Weather clear and warm in the day time and cold at night. Today we had a very interesting meeting. At the close of which we received mail and papers from home, one letter from Lizzie, 1 from Mariett and 1 from Peter Johnson.
Continued in Part 3. A summary of this journal account is included in The Joseph Eggleston Family: Seven Generations from Joseph (d.1767) of Stonington, Connecticut to Joseph (1885-1965) of Utah and Wyoming, pp. 416-417.