Early Years in Eden
Jacob Johnson and his twin brother Ephraim were born March 20, 1876 in Eden, Weber, Utah to Peter Johnson (Jorgensen and Ane Marie Madsen. Their father, Peter Johnson, an immigrant from Denmark, had a farm there. Peter died in December 1878 after he was caught in a snow storm and became ill. These twin boys were just over two years old when their father died. Their younger sister Agnes was just a baby.
Jacob and his brother Ephraim were involved in the Young Men Mutual Improvement Association of the Church of Jesus Christ of Latter-day Saints in the Eden Ward. Jacob served as Counselor and Ephraim as Secretary.
Education was important to this family. Older brother David related that all eight of the children were sent to school whenever it was in session. A great amount of learning was impossible but they had the opportunity to take advantage of whatever was available. I have inherited a number of text books that belonged to the Johnson siblings. This one has Jacob's name inside.
Jackson Hole, Wyoming
Jacob went with his brother Ephraim to Jackson Hole, Wyoming where they ran a sawmill. This sawmill was located somewhere near Wilson, Wyoming.
After working at the sawmill with Ephraim for a time, Jacob left to homesteaded on Mormon Row or Grovont, Wyoming with his nephew Joseph S. Eggleston. Joseph had worked at the sawmill with his uncles for a time. Jacob and Joseph dug a rather large ditch known as the Johnson/Eggleston ditch. Joseph left Mormon Row and returned to Eden, Utah, selling his land to Jacob.
Marriage and Family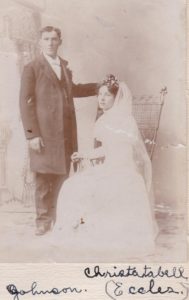 Jacob married Christabelle Eccles January 13, 1898 in Salt Lake City. She was born March 8, 1879 in Huntsville, Weber, Utah. She was a daughter of Stewart Eccles and Marintha Eltharia Bingham.
They had seven children: Jacob Lloyd born February 4, 1899 in Eden, Utah who went on an LDS Mission to Samoa in 1917; Steward Eccles who was born July 22, 1901 and died at 7 months old, February 28, 1902; Marintha Ortell who was born October 16, 1903 and died at 8 years old January 6, 1912; Susan Marie born June 22, 1907, who later married Lyman Holt Richmond; David Eccles born January 7, 1912, just a day after his sister Marintha died. He was born in Eden, though his birth certificate gives his parents residence as Jackson, Wyoming; a stillborn boy March 4, 1915 in the Dee Hospital in Ogden, Utah; and Karl Marvin who was born June 26, 1918 in Grovont, Wyoming (Mormon Row).
Jacob had some financial difficulties, possibly in conjunction with his divorce from Christabelle, which apparently occurred between 1920 and 1924. A Notice of Foreclosure Sale was printed in the Jackson Hole Courier, November 20, 1924. It listed Jacob Johnson and Belle Johnson as Mortgagers and J. I. Case Threshing Machine Company as the mortgagee. The Mortgage was for $200.00 principal and $39.55 interest with $23.95 attorney's fees. A sale of mortgaged farm equipment was to be made at the Jacob Johnson Ranch in Teton County December 6, 1924 to satisfy the costs. He apparently lost a Threshing Machine, Case Separator with trucks, a Stacker, Self Feed and Band Cutter and Fordson Traction Engine, Wither and Endless Canvas Belt.
Christabelle married Karl Matthews Kent in 1924. He died in 1945 in Los Angeles. Christabelle died April 15, 1965 in Idaho Falls, Idaho and was buried in the Jackson City Cemetery, Jackson, Wyoming.
L. D. S. Missions
Jacob served two missions for the Church of Jesus Christ of Latter-day Saints after his divorce from Christabelle. On November 17, 1925 he was set apart to serve in the Northern States Mission. He departed November 18th and returned March 26, 1926. He was 49 years old and living in Wilson, Teton, Wyoming when he was called. Jacob served again at age 58 in California. He Served from November 15, 1934 to April 25, 1935. Theses were brief missions served during the winter months when there was not as much farm work to do.
Death of Jacob
Jacob apparently returned to California after serving a mission there and remained there for the rest of his life. In the 1940 Census he was living with his daughter Marie and her husband Lyman Richmond in Los Angeles. Jacob died March 7, 1944 in California. He was buried in Rose Hills Cemetery, Whittier, California.
Notes regarding Sources:
This was adapted from the account in my book, The Joseph Eggleston Family, page 533. Sources used there include Eden Ward Records; History of the Eden Ward, Ogden, Utah Stake 1877-1977, by Melba and Ren Colvin; The Pass: Historic Teton Pass & Wilson Wyoming by Doris B. Platts, 1988, which includes newspaper articles in the Jackson Hole Courier. I also gathered additional information from Census and other records and found interesting details attached as "memories" on FamilySearch.