The Childhood of David Henry Johnson
David Henry Johnson was born March 6, 1874 in Eden, Weber County, Utah, the son of Peter Johnson and Ane Marie Madsen. His parents were both immigrants from Denmark, who met and married after coming to Utah. David's father died in December 1878, probably from pneumonia after being caught in a terrible snow storm. David related: "I was only four and a half years old at the time of my father's death so do not remember much about him. My mother and I were very close and companionable. She taught me all that she knew about horticulture and animal husbandry. She inspired me with ambition and the practice of thrift and industry."
Education was important to this family. David related that all eight of the children were sent to school whenever it was in session. A great amount of learning was impossible but they had the opportunity to take advantage of whatever was available. I have inherited a number of text books that belonged to David and his siblings.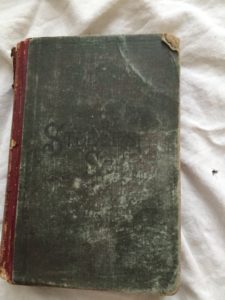 David remembered that one time Brigham Young sent Eliza R. Snow and Susan R. Young up to Eden to visit the Primary Association. He related, "Eliza wore a black satin dress, all in one piece. I was seated on the front row with about four or five others, in Primary that day. She showed the children a gold watch which had belonged to the Prophet Joseph Smith. Susan talked in tongues. Such a beautiful, beautiful woman—her face looked like ivory. Eliza said, 'Someone here will give the interpretation to what Sister Susan has just said.' A highly educated English woman did arise and give the interpretation. She said, 'Your sons will build a Church.' Nine years later they did build the Church. I think that it is still standing."
Adventures with a Bear
In October 1893, David and some neighbors had an adventure with a bear in the area, as reported in a local newspaper.

Brief marriage of David Henry Johnson and Hannah Elizabeth Langlois
David married Hannah Elizabeth Langlois on May 30, 1900. The Marriage license, dated May 29, gives her name as Lizzie, though the marriage record, dated May 30, has her name Hannah E. Langlois.
Hannah Elizabeth was born February 10, 1876, the daughter of George Langlois and Mary Ohlsson. Her father was born on the Isle of Jersey and her mother in Sweden.
David and Lizzie lived in Eden for most of their marriage. They were on the 1900 Census of Eden with her brother David Langlois and his wife and baby daughter living with them. David was listed as a farmer with no occupation listed for Elizabeth. Her brother David was listed as being a school teacher. According to her death certificate, Lizzie worked as a school teacher.
David sold his property in Eden in 1904 and they moved to Ogden. Elizabeth and David were living at 2116 Jefferson Ave. in Ogden when she died. She passed away April 8, 1906 from tuberculosis. I have found no record that they had any children.
David Alone
David was left a young widower. The 1908 Polk Directory of Ogden, Utah showed that he was still living at 2116 Jefferson, though he worked at a Meat Market at 1802 Washington Ave.
By 1917, David was living in West Ogden at 2372 E. Ave. This is the address listed on his World War I Draft Registration card. He was then 43 years old and gave his occupation as carpenter. This document also indicated that he had "disabled legs". In the 1920 Polk Directory he was still listed at that address on E. Ave. with occupation carpenter.
I have found no indication that David married again. His death certificate lists Hannah Elizabeth Langlois as wife. (It is interesting though, that in the 1930 Census it has in the column "age at first marriage" 39, when he was 25 at the time he married Lizzie.)
Land and Water Disputes
David moved to Kanesville, in western Weber County, where he had a farm. He had disputes with neighbors over water rights. On May 19, 1936, there was a shooting incident. David was shot in the head and he shot John Kap in the chest. Both were taken to the hospital.
David quoted a hospital record in a later petition, which described his wound: "a small wound in frontal hair line about two and one half inches above the superorbital notch; the bullet of a short .22 caliber bullet was found two and one half inches back of entrance."
David explained that he was held in the hospital with his head packed in ice until the morning of May 20th, when the County Physician, Dr. Feller, examined him. He reported " death is imminent unless this missle is removed." David described the procedure: "So he [Dr. Feller] had the hospital X-ray his head and found a .22 bullet and cut open the scalp and spread it open and shaved the .22 bullet down to the small part and removed the remainder and re-aid the scalp and sewed 12 stitches to hold all and gave notice if this bullet has not split the brain lining you may live. Otherwise do not speak or talk until this shall have knitted together as the blue puss is still oozing from it."
Kap passed away a few days later and David was charged with murder. His trial took place over a few days in July of 1936. David asserted that he acted in self defense and took the stand to testify. A jury found him guilty of second degree murder. He received a life sentence.
David's Life in Prison
David was sent to the Utah State Penitentiary where he remained for the rest of his life. He was first sent to the prison in Sugar House. Later a new prison was built at Point of the Mountain in Draper. In 1951 prisoners, including David were moved to the new facility.
In a newspaper article relating his death, the Warden, John Turner, indicated that Dave was a model prisoner. He said, "He went about his own business and never caused a bit of trouble here." The Warden also said that David was sent to the American Fork Training School and later to the Utah State Hospital for some time. He said, "He came back both times because he liked it better here." The Warden also said that to his knowledge David had never been up for parole, however I have found newspaper articles that indicate that he was. Parole was denied each time.
While in prison David made a blanket from Bull Durham tobacco pouch sacks. The inmates apparently got tobacco and papers in these pouches and rolled their own cigarettes.
David wrote many petitions and appeals. He apparently knew enough to create documents which appeared to be official, however the content is rather confusing. He directed these to a variety of places – the State of Utah, The United States Supreme Court, Congress, and leaders of the L. D. S. Church. He seemed intent on telling his side of the story. He felt that he had acted in self-defense and his rights were violated. There is one letter indicating that the Supreme Court refused to address his petition, but I don't know if all of these petitions were actually sent or what happened with them. They obviously did not change his life sentence.
David's Death
A few months before his death, David became ill and was sent to Salt Lake General Hospital. He was admitted to the hospital on December 6, 1960. According to a family letter, by January 10 he had been on the critical list for several days and was not responding to any medication. He died in the hospital on January 23, 1961. Causes of death listed on his Death Certificate were Congestive heart failure, due to subacute bacterial endocarditis due to lymphosarcoma.
A letter from the hospital to David's nephew, Joseph Eggleston, reported the findings of a postmortem examination. This indicated that his death was "due to a tumor of his lymph nodes which had involved organs in his abdomen. In addition, there was evidence of involvement of the heart with an infection which had been partially cured."
The State of Utah would have sent David's remains to the University Medical School, had not the family made other arrangements. His nephew, Joseph Eggleston, made funeral arrangements and a service was held. David was buried in the Eden Meadow View Cemetery next to his parents. He left a very small insurance policy. Joseph Eggleston was the beneficiary.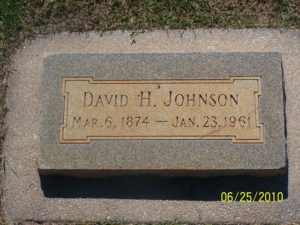 Note:
This account was adapted from what is in my book, The Joseph Eggleston Family, p. 531-532. As I was writing this post and studying more about the murder charges and appeals, I decided that I would relate that in more detail at a later time in another blog post – so watch for it.