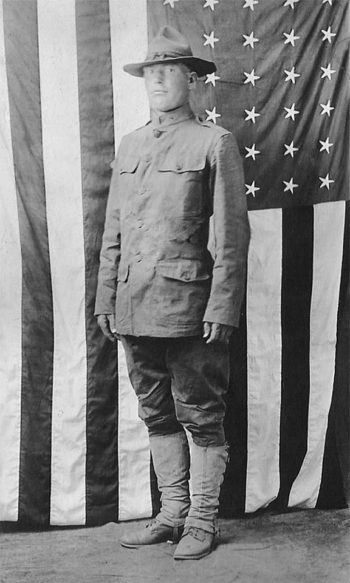 I have always thought this a great photo. It is only after doing some research into the military service of Howard Cheney, that I can appreciate the proud, though somewhat terrified look as he stands at attention in his uniform.
Joseph Howard Cheney
Joseph Howard Cheney, was my grandmother's brother, making him my Great Uncle. I have come to see him as Great in another way. He was born in Jackson Hole, Wyoming on June 20, 1891, the fifth child and fourth son of Selar Cheney and Mary Alice Wilson. His childhood in Jackson Hole was probably adventurous, but could it possibly have prepared him for what was to come?
Howard, as he was called, was a young man as World War I raged across the ocean. The United States was slow to join her allies in this War, waiting and watching until officially declaring War on April 6, 1917. Howard likely read available newspapers accounts and maybe thought about this War as he worked on his ranch.
The first U.S. Draft began in June 1917 and Howard was one of the first to register on June 5, 1917. He was 25 years old. On his registration card he indicated that he had no disability or exception to service.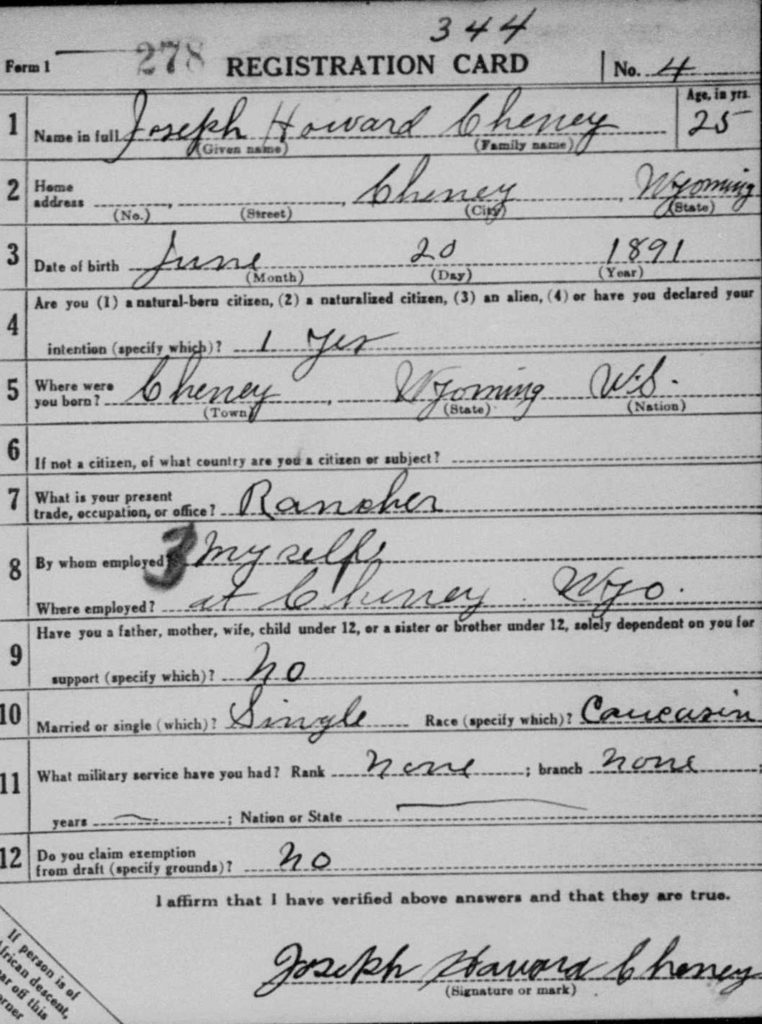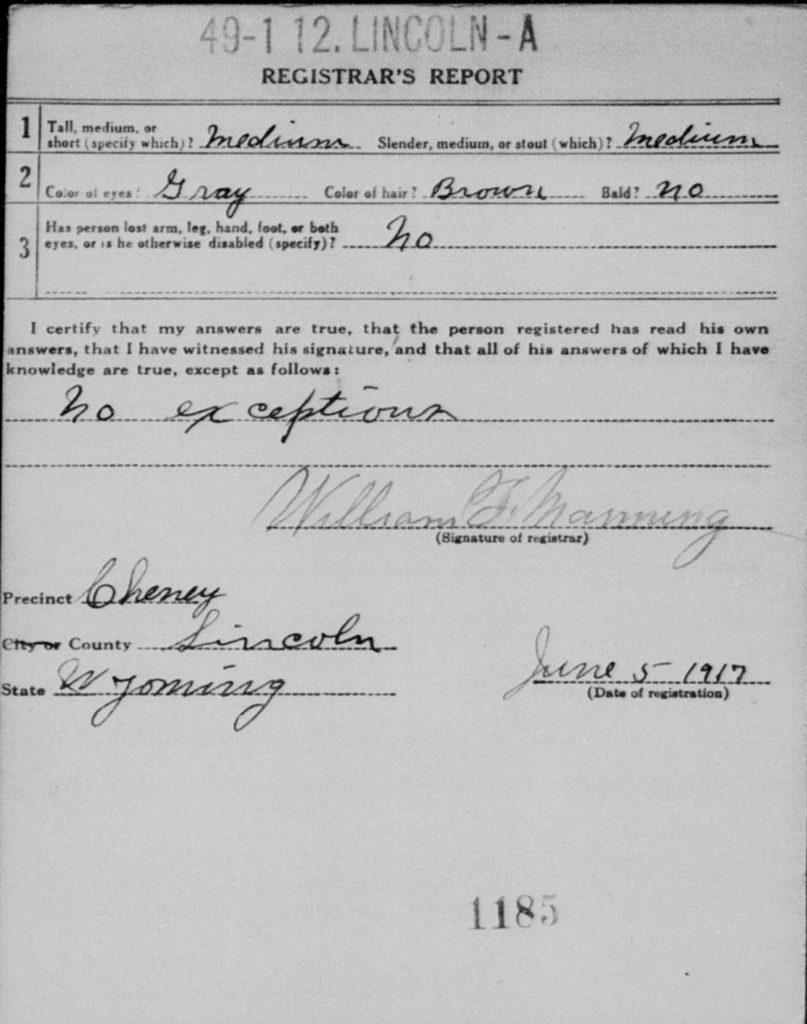 Private Joseph Howard Cheney
Howard enlisted on May 24, 1918. He was sent to Camp Lewis in American Lake, Washington for training. Having been to this very place earlier this year, I can picture that. Camp Lewis has now morphed into Joint Base Lewis McChord, where my son-in-law was stationed.
Howard served as a Private in Battery A 145th Field Artillery 40 Division. On August 5, 1918, he sailed on the ship Scotian from New York City to France. Unfortunately, there are few available details about his service other than that he served in France until the end of the War. Just knowing about the horrors of this war and the devastation caused to France, we can assume that it was a frightening and horrible experience. Howard was not wounded, though one must wonder if he carried home unseen wounds.
The Armistice was signed on November 11, 1918, ending this Great War. Howard left Bordeaux, France on December 23rd and arrived in Hoboken, New Jersey on January 5, 1919. He was discharged January 24, 1919 at Logan, Utah.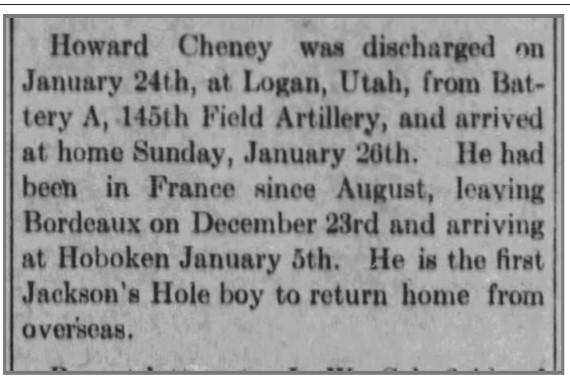 Return to the Ranch in Jackson Hole
Howard returned to Jackson Hole January 26, 1919 and resumed ranching. He married Pearl Estella Mangum November 7, 1923. They had five children and raised four to adulthood. Howard farmed and fed his family through the Great Depression.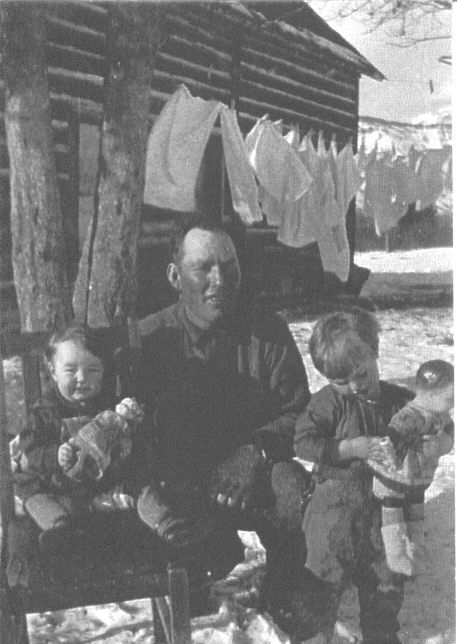 With the entry of the United States into another World War, Howard again dutifully registered for the Draft. He was then 50 years old.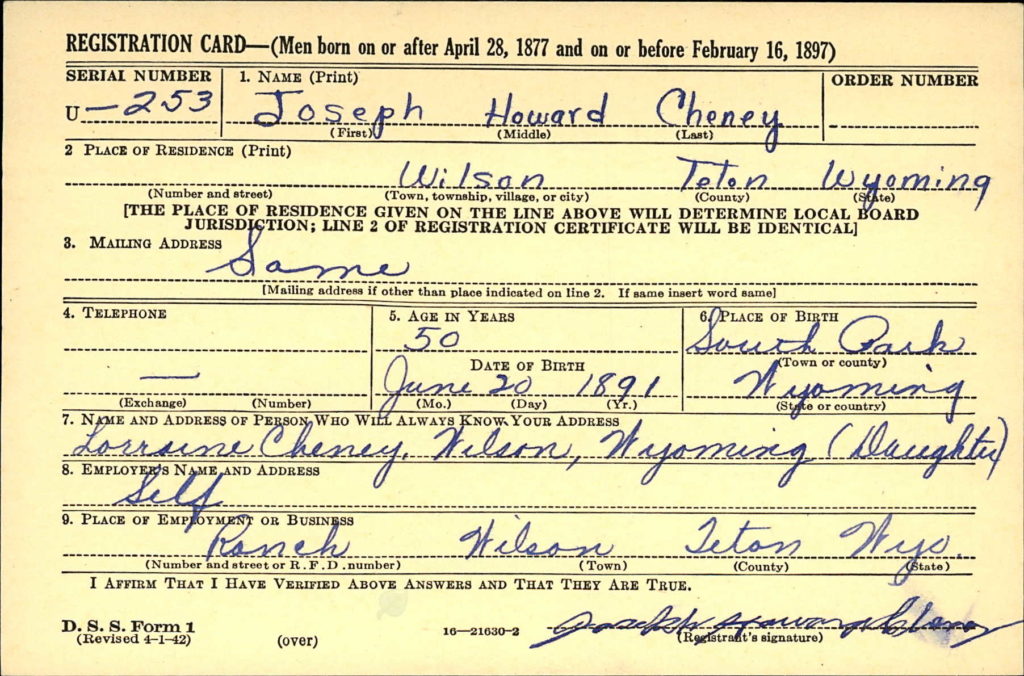 Howard died on the eve of Independence Day, July 3, 1949 in Brigham City, Utah at the relatively young age of 58.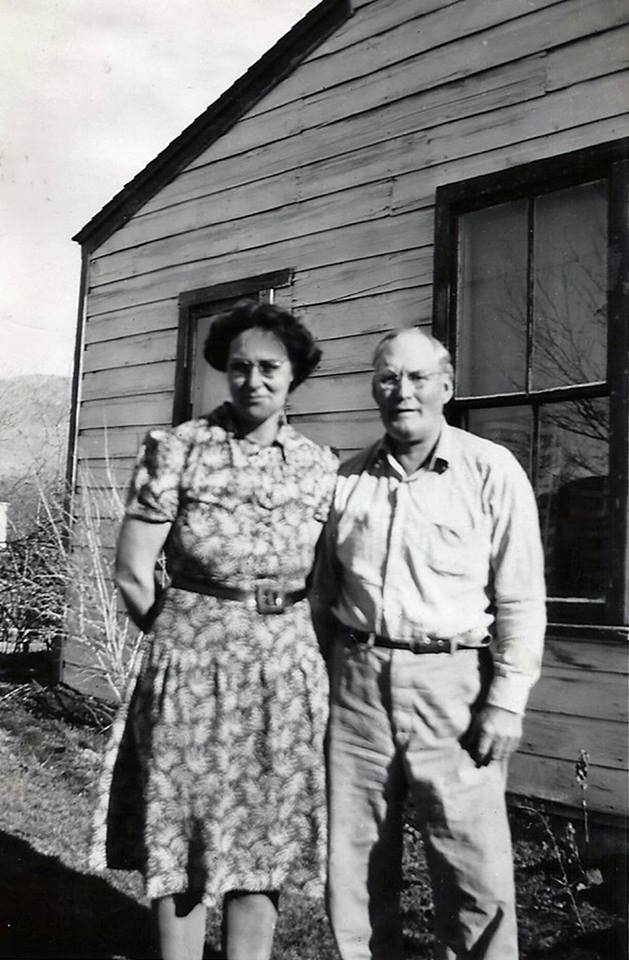 After his death, Howard's wife Pearl applied for a Military Headstone for his grave. She was living in Brigham City, Utah at the time of the application, July 3, 1951. She had the stone marker shipped to her son-in-law Keith Shinkle of Victor, Idaho to the Wilson, Wyoming Post Office, which was on the other side of Teton Pass. This granite marker was placed on Howard's grave in the South Park Cemetery, in Jackson, Wyoming.