Somewhere along my genealogy journey, I acquired a microfilm of the records of the Stillwater, New York Baptist Church from the American Baptist Historical Society. I went through the microfilm and transcribed parts of the records. The following are excerpts from the records:
Organization of the Stillwater Baptist Church
The Stillwater Baptist Church was organized in 1781.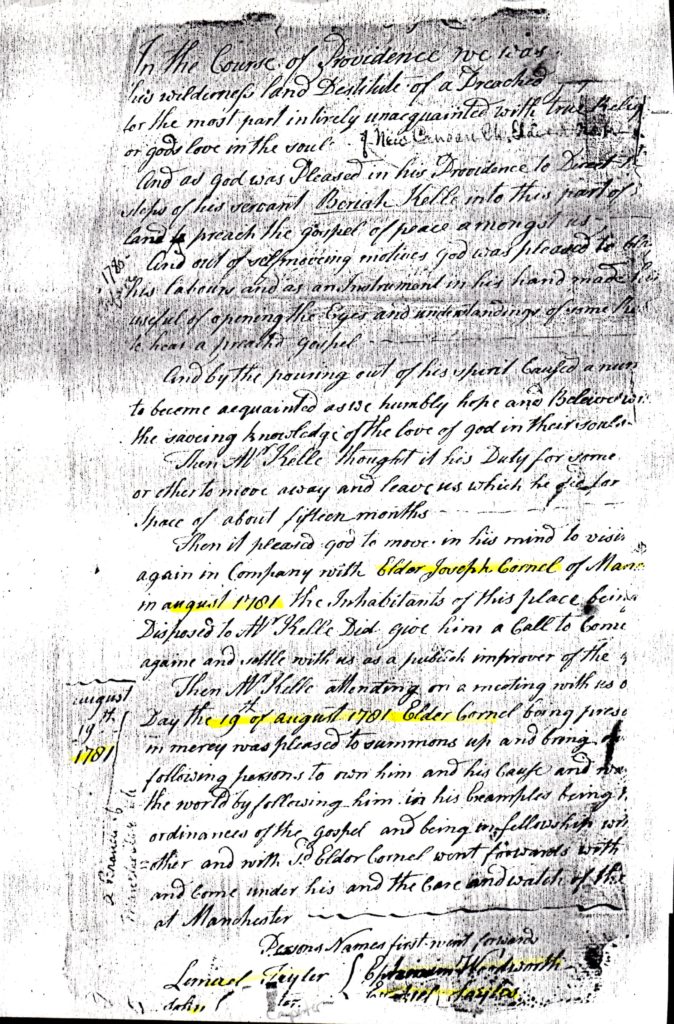 In the Course of Providence we was [in] this wilderness land destitute of a Preacher for the most part in livily unacquaintance with true religion or Gods love in the sou. And as God was Pleased in his Providence to direct the steps of his servant Beriah Keele into the part of the land to preach the Gospel of peace amongst us. And out of self moving motives God was pleased to bless his labours and as an instrument in his hand made him useful of opening the Eyes and understanding of some ( ) to hear a preached gospel. And by the pouring out of his spirit caused a number to become acquainted as we humbly hope and believe to the saving knowledge of the love of god in their souls. Then M. Keele thought it his duty for some or other to move away and leave us which he did for space of about fifteen months. Then it pleased God to move in his mind to visit again in Company with Elder Joseph Cornel of Man[chester] in August 1781 the Inhabitants of this place being disposed to M. Keele Did give him a call to come again and settle with us as a publick imporver of the [ ]
Then M. Keele attending on a meeting with us on Day the 19th of August 1781 Elder Cornel being present in mercy was pleased to summons up and bring [ ] following persons to own him and his cause and[ ]The world by following him in his Examples being [ ] ordinances of the gospel and being in fellowship with (each) other and with Elder Cornel went forward with and come under his and the care and watch of the [church] at Manchester.
Persons Names first went forward
Lemuel Taylor, Ephraim Woodworth, Exekiel Sayles, John [ ]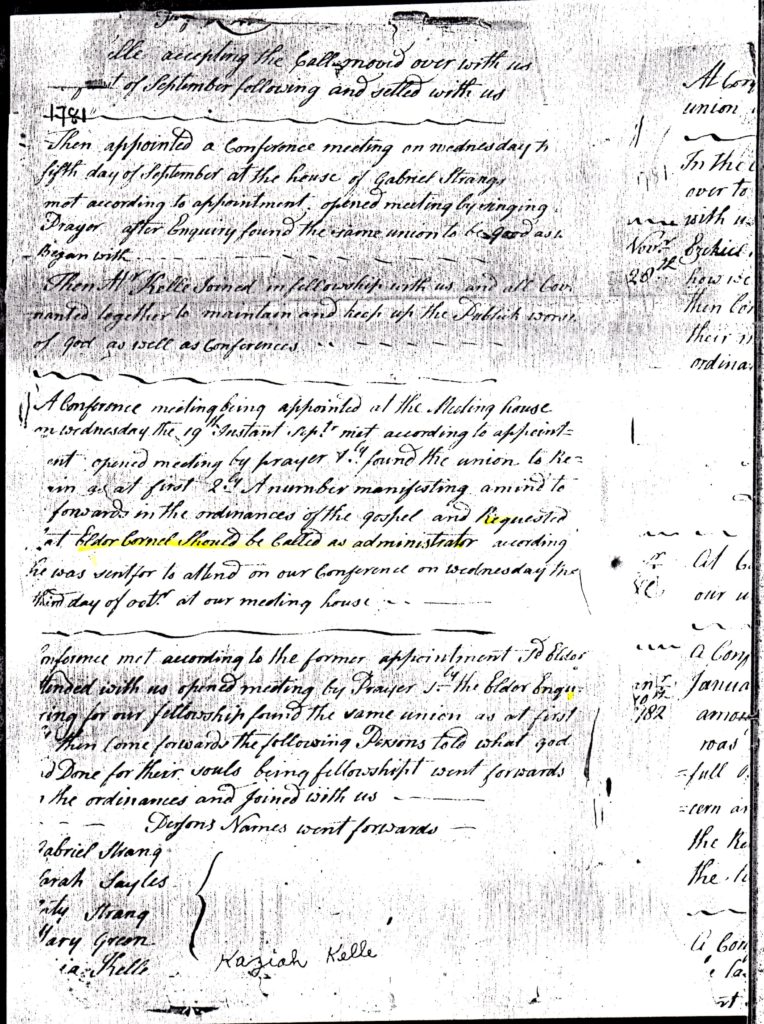 Conference met according to the former appointment. Elder attended with us opened meeting by Prayer 1ly Elder Enquiring for our fellowship found the same union as at first then come forwards the following persons told what god done for their souls being fellowshipt went forwards in the ordinances and joined with us. Persons names went forwards
Gabriel Strang
Sarah Sayles
Caty Strang
Mary Green
Kaziah Keele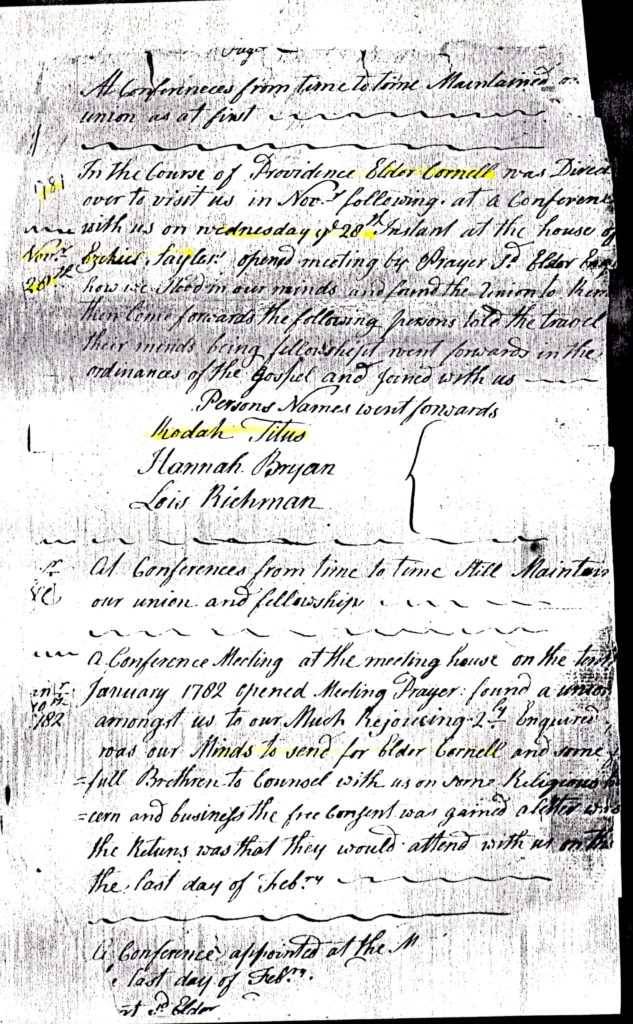 On Nov 20, 1781 In the course of Providence Elder Cornell was directed over to visit us in Nov. following at a conference with us on Wednesday 28th Instant at the house of Ezekiel Sayales opened meeting by prayer. Elder Enquired how we [ ] in our minds and found the union to them then come forwards the following persons told the travail their minds being fellowshipt went forward in the ordinances of the gospel and joined with us
Persons Names went forwards
Rodah Titus
Hannah Bryan
Lois Richman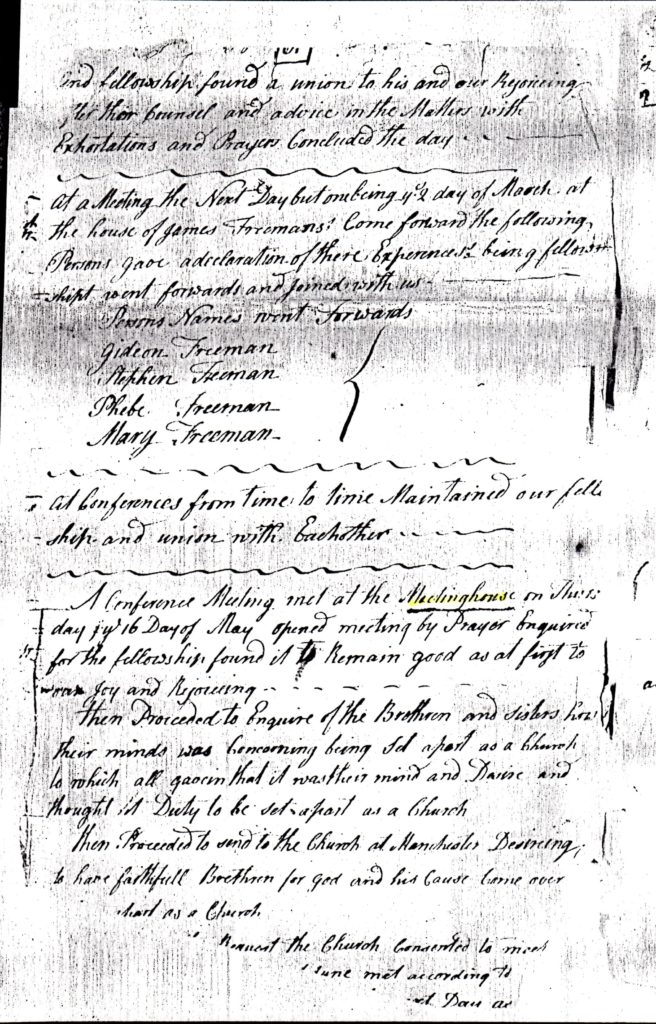 At a meeting the next day but one being 4-2 day of March [1782] at the house of James Fremans, Come forward the following persons gave declaration of there experience being fellowshipt went forwards and joined with us.—-Persons Names went forwards
Gideon Freeman
Stephen Freeman
Phebe Freeman
Mary Freeman
A Conference Meeting met at the Meethinghouse on Thursday 16 Day of May opened meeting by Prayer Enquired for the fellowship found it to remain good as at first to our Joy and Rejoicing—Then Procceded to enquire of the and sisters how their minds was concerning being set apart as a Church to which all that it was their mind and desire and thought it duty to be set apart as a Church. Then Proceeded to send to the Church at Manchester Desiring to have faithful Brethren for God and his Cause come over as a church. . .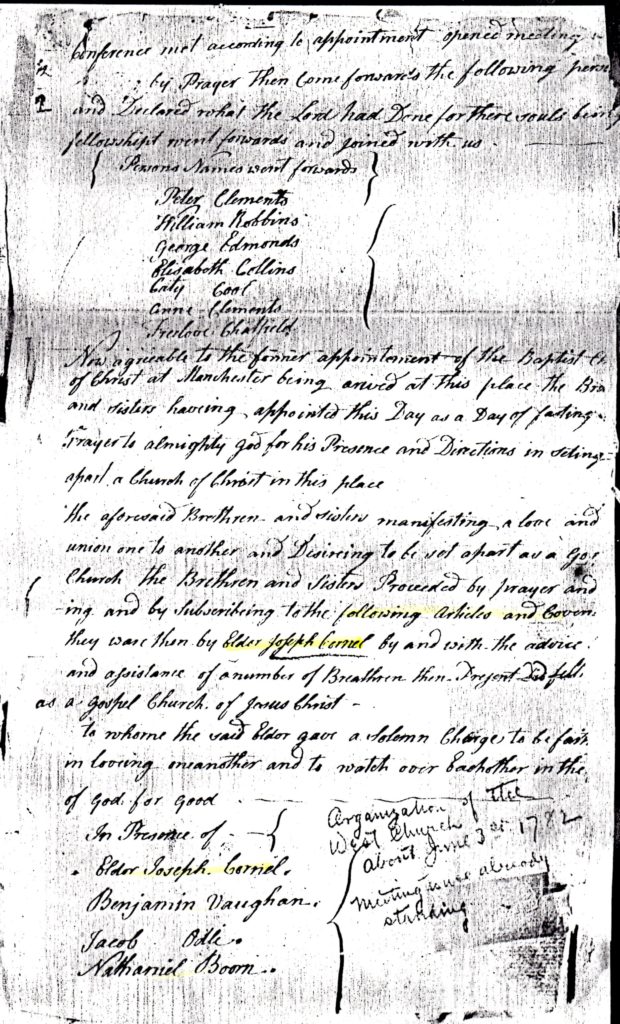 Conference met according to appointment opened meeting by Prayer then come forwards the following persons declared what the Lord had Done for there souls being fellowshipt went forwards and joined with us. Persons Names went forwards
Peter Clements
William Robbins
George Edmonds
Elizabeth Collins
Caty Cool
Anne Clements
Freelove Chatfield
Now agreeable to the former appointment of the Baptist Church of Christ at Manchester being arrived at this place the Bro and sisters having appointed this Day as a Day of fasting & prayer to almightly God for his Presence and Directions in seting apart a Church of christ in this place.
The aforessaid Brethren and Sisters Proceeded by prayer and [sing]ing and by subscruibing to the following Articles and Covenant there were then by Elder Joseph Cornel by and with the advice and assistance of a number of Brethren then present disf as a Gospel Church of Jesus Christ.
To whom the said Elder gave a Solemn Charge to be faithful in loving one another and to watch of each other in the of God for good.
In Presence of
Elder Joseph Cornel
Benjamin Vaughan
Jacob Odle
Nathaniel Boon
(Note: Organization of the West Church about June 3rd 1782 meetings were already standing)
Church Articles of Faith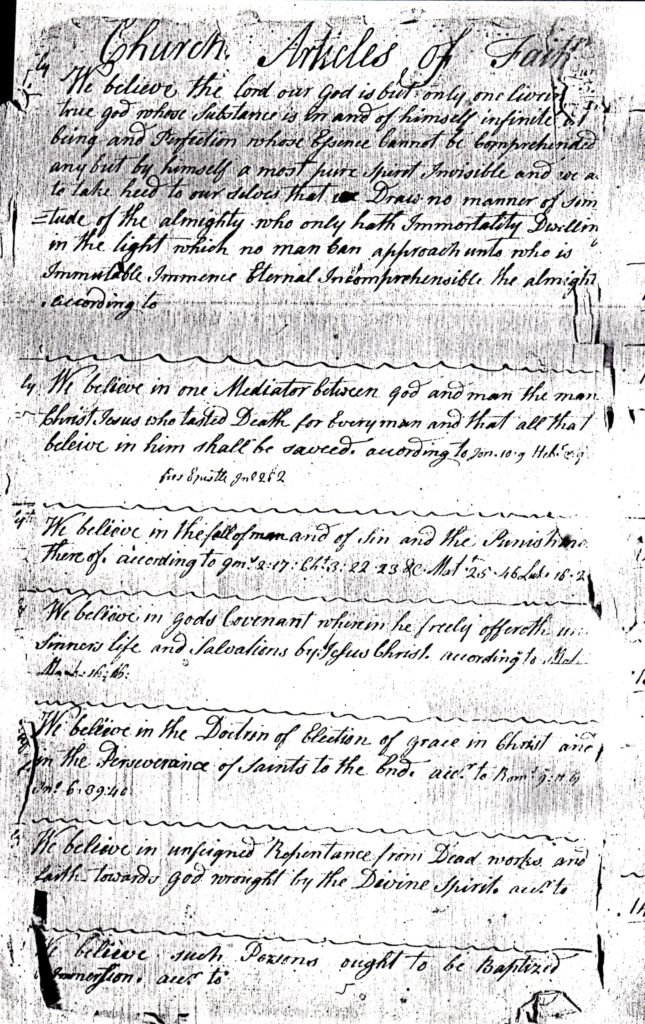 1st We believe the lord our God is but only one living true god whose substance is in and of himself infinite of being and perfection whose essence cannot be comprehended by any but by himself a most pure spirit invisible and we are to take heed to our selves that we draw no manner of (tom-tude) of the almighty who only hath immortality dwelling in the light which no man can approach unto who is immutable, Immense, Eternal Incomprehensible the almighty according to
2nd We believe in one Mediator between god and man the man Christ Jesus who tasted Death for every man and that all that believe in him shall be saved according to Jon 10.9, Heb [ ], firs epistle Jn 2 & 2
3rd We believe in the fall of man and of sin and the punishment then of according to gm 2:17, Ch 3:22 Mat 25.46, Luke 16.2
4th We believe in gods Covenant wherein he freely offereth unto sinners life and salvation by Jesus Christ according to Mat Mark [ ]
5th We believe in the Doctrine of Election of grace in Christ and in the perseverance of saints to the end acct to Rom 9:11, Jn 6.39:40
6th We believe in unfeigned Repentance from Dead works and faith towards god wrought by the Diving Spirit acct to
7th We believe such Persons ought to be Baptized confession acct to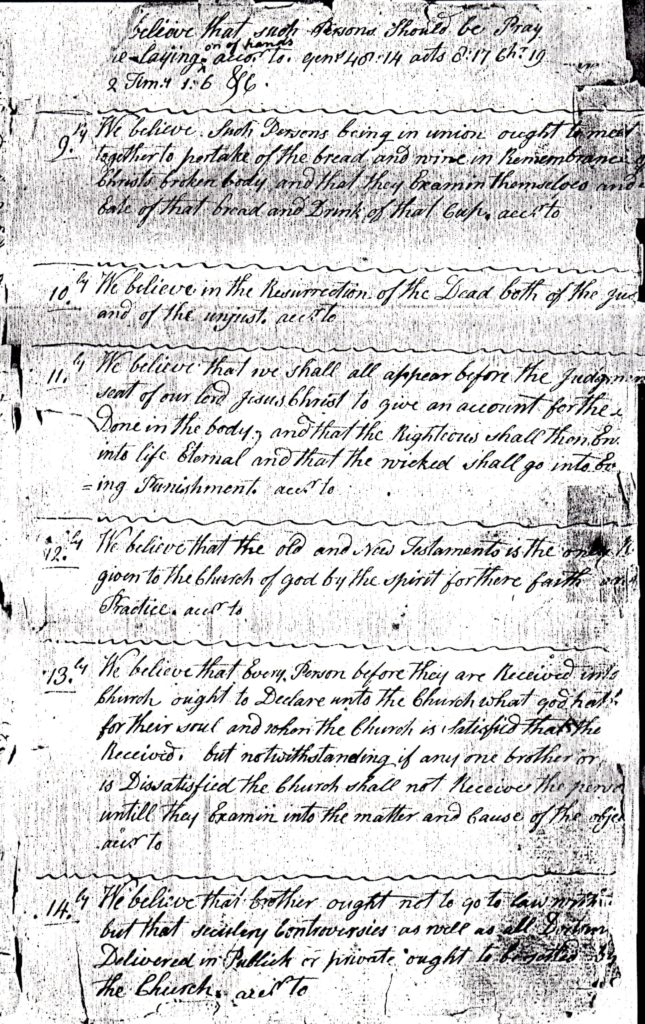 8th We believe that such persons should be pray[ful] [ ] laying on of hands accord to Gens 40:14 Acts 2:17 ch 19 2 Tim 4 1:6
9th We believe such persons being in union ought to meet together to partake of the bread and wine in Remembrance of christs broken body and that they Examine themselves and eat of that bread and Drink of the Cup acct to
10th We believe in the Resurrection of the Dead both of the just and the unjust acct to
11th We believe that we shall all appear before the judgement seat of our lord Jesus Christ to give an account for the (deeds) done in the body and that the Righteous shall then enter into life Eternal and that the wicked shall go into E[—ing] punishment acct to
12th We believe that the old and New Testaments is the only [ ] given to the Church of God by the spirit for there faith and practice acct to
13th We believe that Every Person before they are Received into [the] church ought to Declare unto the church what God had [done] for their soul and when the church is satisfied that they [be] received. But notwithstanding if any one brother or [sister] is dissatisfied the Church shall not Receive the person until they Examin unto the matter and cause of the objection acct to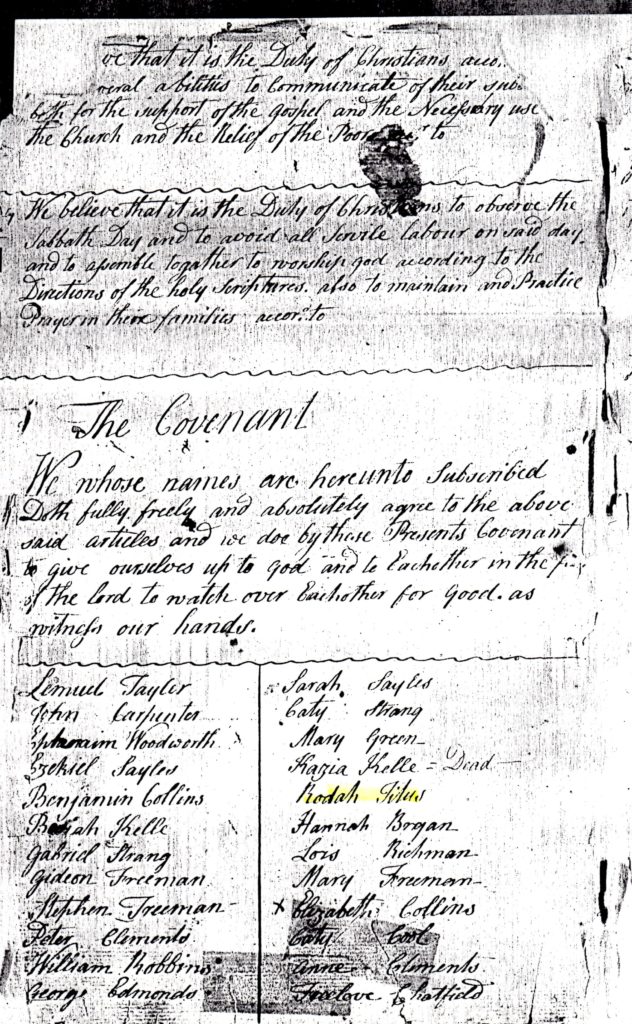 14th We believe that brother ought not to go to law with [ ] but that secular controversies as well as all doctrine [ ] Delivered in Publick or private ought to be settled by the Church acct to
15th We believe that it is the duty of Christians acco[ ] several abilities to communicate of their substance both for the support of the Gospel and the necessary use of the Church and the Relief of the Poor acct to
16th We believe that it is the Duty of Christians to observe the Sabbath Day and to avoid all Servile labour on said day and to assemble together to worship god according to the directions of the holy scriptures also to maintain and practice Prayer in their families acct to
The Covenant
We whose names are hereunto subscribed doth fully freely and absolutely agree to the above said articles and we do by these Presents covenant to give ourselves up to god and to each other in the [faith] of the lord to watch over each other for good as witness our hands
Lemuel Tayler                                        Sarah Sayles
John Carpenter                                     Caty Strang
Ephraim Woodworth                             Mary Green
Ezekiel Sayles                                        Kaziah Keele (dead)
Benjamin Collins                                   Rodah Titus
Beriah Keele                                          Hannah Bryan
Gabriel Strang                                       Lois Richman
Gideon Freeman                                   Mary Freeman
Stephen Freeman                                 Elizabeth Collins
Peter Clements                                     Caty Cool
William Robbins                                   Anne Clements
George Edmonds                                 Freelove Chatfield
The Church being set apart as a Politic body to as God and them selves Made choice of brother Ezekiel Sayles for Clerk of the Church.
Background on the Formation of this Church
It appears that this church, like others, started with a group of people joining together to worship and being led by lay leadership. Eventually, through the help of ministers of other Baptist Churches in the area, a formal church was then organized. At the time of organization, Articles of Faith were written which outlined the beliefs of the church. Though there were many similarities and the same general beliefs stated in the Articles of Faith of the various churches, each could express unique emphasis on particular doctrine or practices. Following the Articles of Faith was a stated "Covenant" which was then signed by the members of the church. This was an agreement by all signing that they accepted and would abide by these Articles of Faith and Practice. Those joining the church later by baptism, would then covenant to accept and abide by these Articles as well.
Beriah Kelle was the first lay leader of this Stillwater Church. After some time the church members wished to have him formally ordained to the ministry. A conference was scheduled with leaders of other area churches, but upon meeting it was learned that Br. Kelle was still a member of another Church and so could not be ordained at that time. He was later dismissed from Elder Drake's church and ordained as Elder of the Stillwater church. In 1789, complaints were made against Elder Kelle by several members of the congregation.
There was a lengthy investigation, calling for assistance from leaders of area churches including some congregational churches as well as the Baptist churches. Some of the accusers later recanted their accusations, but others stood and eventually Brother Kelle was disfellowshiped. Instructions were given that any continuing to fellowship Brother Kelle would also be disfellowshipped. Some did continue with him and were later disfellowshiped.
The Two Stillwater Churches Merge
Brother Kelle's disfellowship left this church without a leader. It was then decided that they would join with another Baptist church in Stillwater, known as the East Baptist Church or Elder Lemuel Power's church. Apparently this original church of Elder Kelle's was known to them as the West Baptist Church.
In September 1790 Samuel Rogers, Seth Burgess and Ezekiel Sayles were appointed to rewrite the Articles of Faith. Apparently Seth Burgess was a member of Elder Power's church and Ezekiel Sayles had been with this Stillwater Church since it's beginning, serving as clerk much of the time. Samuel Rogers is referred to as Elder and the meeting at which the churches were merged was held at his home.
In merging these two churches there would have been a merging of the Articles of Faith, which was what this committee, with representation of both churches, was appointed to do. We do not have access to Elder Power's original Articles or the revised version. A meeting was held December 25, 1790, at which time the two churches were officially merged "receiving each other in gospel fellowship and do consider ourselves for the future but one church" and "every member that have formerly belonged to both church that are now in good standing by consideration in this union." At that time, the revised Articles of Faith were accepted and Ezekiel Sayles was chosen Clerk of the Church with Elder Lemuel Powers continuing as its pastor. The Record Book has a new title page: "United Baptist Church Book in the town of Stillwater United Dec. 25, 1790."
Lemuel Powers served for some time but eventually had his own scandal and was likewise disfellowshipped. Many of his family members migrated to Sempronius and joined with former members of the Stillwater Church there.
There was a Saratoga Baptist Association, which appears to have been organized around 1805. A list of churches belonging to this Association was included in the Stillwater Church records. Among them were the Bottskill Church which withdrew from the organization in 1830, the Stillwater Church which united with the organization in 1814, and Churches in Kingsbury, Saratoga, Halfmoon, Salem, Galway, Greenfield, Ft. Ann and others. The Stillwater Church records mention many of these churches and their leaders. There appears to have been a close association between the Stillwater Church and the Bottskill Church with mention in records of both of visits from the others ministers and conferences.
Notes:
The yellow highlights are my doing, indicating names I was familiar with and other things that seemed significant to me at the time. The explanatory information at the end of this post was taken from an appendix of my book The Joseph Eggleston Family: Seven Generations from Joseph (d.1767) of Stonington, Connecticut to Joseph (1885-1965) of Utah and Wyoming (Including Maternal Lines: Hill, Burgess, Titus, Sammis & Johnson)
Church lists and other information from the records will be shared in future posts.