Remnants of Lives Lived
When my mother-in-law passed away, we had the unpleasant task of the dispersal of all her stuff (and she kept everything). There were of course, items like her journal, letters and photographs which chronicle her life. The decision there was how to preserve and share them. This experience, however, also included a totally unanticipated dilemma. For it to make sense, I might need to share some complicated family history.
Step-Relationships
My mother-in-law was married four times. The first very brief marriage produced my husband. The second marriage produced two other children. Both of these marriages ended in divorce and both husbands married others. The third marriage was to the love of her life. He also had been married previously and had a daughter. He passed away rather young and then my Mother-in-law married number four.
Husband number four had been married twice before. The first marriage produced two sons, the second no children. His second wife had one son from her previous marriage. They passed away in this order: First, the 2nd wife of husband #4 (before his marriage to my Mother-in-law); second, the only son of husband #4's 2nd wife ; third the 4th husband; and then lastly my mother-in-law. The only daughter of husband number three passed away a few years before my mother-in-law. (Husband #1 passed away earlier but that is another complicated story)
There was stuff left behind by both husband number three and four, as well as additional stuff of the wife and son of husband number four. All this remained at the house which had been the home of husband #4 and his second wife, which my mother-in-law moved into after their marriage. Now that I have you totally confused, we will move on to the stuff.
Remnants and Traces
There was no issue with the stuff left behind that had monetary but no sentimental value, other than maybe bringing out the greed in people. Selling their things was unemotional. Some items were taken just because someone liked them – no feeling attached there either.
It is the stuff that chronicles lives that had me in a quandary. It has no personal significance to me. But to toss it seems too much like dismissing their lives as disposable and forgotten.
The personal stuff of husband number four was given to his sons. A few things belonging to husband number three were meaningful to those of us who had known him as step-father and grandfather. The stuff belonging to the deceased wife of husband number four and her only son left us with no one to give them to – no living descendants or other family members that we knew.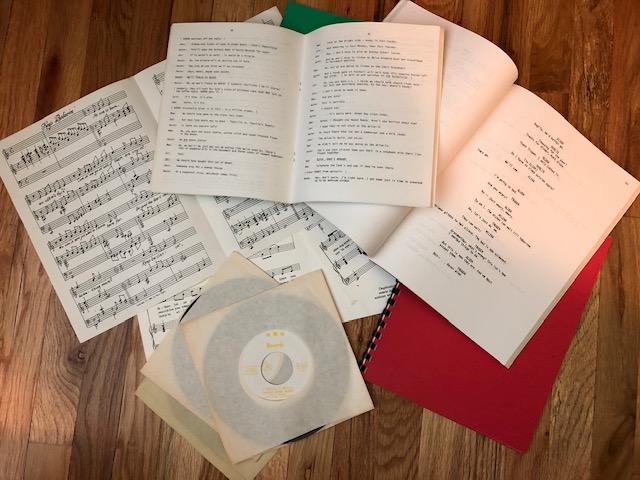 The son was a playwright and among the stuff left at the house were copies of plays he had written, sheet music, cassette tapes, and 45 records of songs from the plays. Attempts to find a local playhouse to take them were not successful. I did post some pictures as memories on FamilySearch, but the son's journal seemed way to personal for that. I read it and felt somewhat like a voyeur. The journal was from his College days. We had both attended the same College at the same time and I knew him, though not as well as I knew some of the people he mentioned in the journal. I remembered some of the events he wrote about. I also remember attending a play that he had written which had been performed on campus. There were programs and memorabilia from that play, including a scrapbook. A name in the scrapbook indicated who had created it, and I learned that she was the sister of a friend. So, I passed that scrapbook on to him to send back to his sister in another state. I am not sure how she felt about having her gift returned, but I felt relief having something so personal off my hands.
Sadness of Traces Unsaved
"You can't take it with you" people say of all the stuff we accumulate throughout our lives. For the stuff that is just stuff, temporarily used and disposable, that seems no great loss to the deceased or any great gain to anyone else. Perhaps it will be sold or given to someone to be useful for another lifetime.
But you also can't take the meaningful stuff with you. You might hope that by its remaining here, it might leave some trace of you to perpetuate your memory to those who knew you. But that may depend upon leaving behind significant others to whom your significant stuff would seem meaningful enough for them to save. Without anyone to keep the stuff or at least to hold on to some memories, what does that leave of a life?