Early Years in Eden
Ephraim Johnson and his twin brother Jacob were born March 20, 1876 in Eden, Weber, Utah to Peter Johnson (Jorgensen) and Ane Marie Madsen. Their father, Peter Johnson, an immigrant from Denmark, had a farm there. Peter died in December 1878 after he was caught in a snow storm and became ill. Thee twin boys were just over two years old when their father died. Their younger sister Agnes was just a baby.
Ephraim and Jacob were involved in the Young Men Mutual Improvement Association in the Eden Ward of the Church of Jesus Christ of Latter-day Saints. Ephraim served as Secretary and Jacob as Counselor. Ephraim also served as Sunday School Chorister. Eden Ward records noted that on June 8, 1902, Brother Ephraim Johnson was given a temporary release as chorister of the Sunday School as his irrigation turn came on Sunday.
Education was important to this family. Older brother David related that all eight of the children were sent to school whenever it was in session. A great amount of learning was impossible but they had the opportunity to take advantage of whatever was available. I have inherited a number of text books that belonged to the Johnson siblings. This U. S. History book has Ephraim's name written in very faded ink.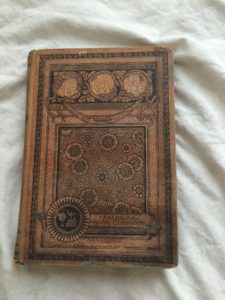 Life in Jackson Hole, Wyoming
Ephraim went to Jackson Hole, Wyoming with his brother Jacob, where they ran a sawmill. After some time there, Jacob then left to farm on Mormon Row with their nephew, Joseph S. Eggleston. Joseph also worked at the mill with them for a time. Ephraim was listed in 1912-1913, 1914, 1922, Wyoming State Directories as having a sawmill. This sawmill was located somewhere near Wilson, Wyoming. A 1931 report mentioned "lots of timber harvesting. Eph Johnson's outfit has 50,000 board feet in their mill yard and were working getting out 900,000 more."
Ephraim apparently became a Bishop in Wilson, Wyoming. "Another Mormon Church built in Wilson by Eph Johnson who was Bishop. The building still stands (1988) and is a private home. It is on the west side of Fish Creek & just south of the intersection where Fish Creek Road starts out toward the north."
First Marriage
Ephraim married Ruby Clarissa Green on February 11, 1911 in Jackson, Wyoming. She was born January 1, 1892 in Vernal, Utah, a daughter of Benoni Green and Julia Ann Lark. Records on FamilySearch indicate she died May 23, 1931 in Jackson, Wyoming. Ruby Johnson, age 37, was listed as a patient in the Wyoming State Hospital for the Insane in the 1930 Census. Find a Grave shows a burial for a Ruby Johnson, age 39, in the Evanston City Cemetery May 25, 1932. This may be Ephraim's wife with an error with the death date. Cause of death listed on Find a Grave is general paralysis.
On the 1930 Census, Ephraim was farming in Teton County, Wyoming. This census listed him as widowed. He was also living near Howard Cheney, the brother of Joseph Eggleston's wife Talitha Cuma.
An Accident
Ephraim was seriously injured in an accident in 1933. An article in the Jackson Hole Courier, August 24, 1933 related:
"EPHRAIM JOHNSON SEVERELY HURT WHEN HORSE BOLTS. Brought to Local Hospital–Pneumonia Develops in Injured Lung–Condition Regarded Critical.

"Injuries sustained last Friday afternoon when thrown from a horse have developed to make the condition of Ephraim Johnson, prominent rancher of Wilson, be regarded as critical and at present he is in the local hospital suffering with a fractured shoulder, six broken ribs, and an injured lung. Pneumonia has developed in the lung and though he is improving as well as can be expected his condition remains very grave, physicians said tonight.

"Elder Johnson, well known worker in the local L.D.S. Church, was thrown from the horse as he rode into the pasture at his ranch about 2 miles below Wilson. The horse, which had a sorely wounded neck, bolted under the pain of his injury.

"Johnson later said he had forgotten the animal was injured and jumped on him to drive the other horses to the pasture. He was brought to the hospital Saturday afternoon."
Second Marriage
Ephraim apparently recovered quickly enough to be married just weeks later. He married Effie Jean Curtis DeLoney Woods September 26, 1933. She had been married previously to Hyrum Wilford DeLoney, who died in 1918. They had two children. She apparently married someone named Wood or Woods after his death. In the 1930 Census she was living in Jackson as Jean D. Wood with her children Wilma and Hyrum DeLoney.
An announcement was made in the Jackson Hole Courier, October 19, 1933. It read:
"Mrs. Jean DeLoney Woods surprised her many friends by announcing her marriage to Eph Johnson of Jackson. They were married in Salt Lake Sept. 26th. Mrs. Johnson is a daughter of Mr. and Mrs. Curtis. After completing business transactions in Jackson the past week the bride and groom returned to Provo to spend the winter. Mrs. Johnson has two children who are attending school there, Miss Wilma DeLoney, who is majoring in music and Hyrum DeLoney, who is attending high school. Their many friends extend sincere congratulations to them."
Ephraim died July 13, 1950 in Salt Lake City, Utah. He was buried in the Eden Meadow View Cemetery in Eden, Utah by his parents.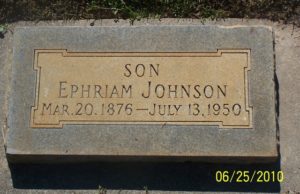 Note regarding sources:
This was adapted from the account in my book, The Joseph Eggleston Family, pages 532-533. Sources used there include Eden Ward Records; History of the Eden Ward, Ogden, Utah Stake 1877-1977, by Melba and Ren Colvin; The Pass: Historic Teton Pass & Wilson Wyoming by Doris B. Platts, 1988, which includes newspaper articles in the Jackson Hole Courier. I also gathered additional information from Census and other records and found interesting details attached as "memories" on FamilySearch.