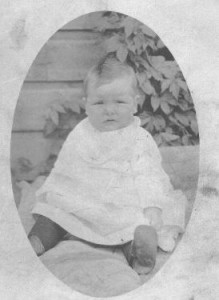 Alice was born on Mormon Row and was still a child when they moved to Eden. She went to school in Eden and Huntsville and graduated from Weber High School in Ogden. She was a good student and made many lasting friends. As a young lady she babysat for several families. Because our mother was not in good health after I was born Alice did a lot of raising me and we were very close. A friend of hers moved to California and invited her to come down there and be a nanny for a family. She thought that would be interesting, so she went to California. While there she enjoyed many things including dancing.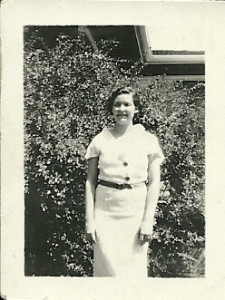 She met several people and one of them was Leon Richard. He was an interesting person and they decided to marry. He was self employed and decorated Drug Store Windows. At that time Drug Stores had enclosed windows where they advertized goods etc. Once or twice a month the windows needed cleaning and redecorating. He had stores all over Los Angeles County and even as far as San Bernardino County. They moved to El Monte and bought a lot where there was an old Trailer 16′ or 24′ and a good sized garage that he used as a studio for getting displays ready for Drug Store Windows. They built onto the trailer and had a livable house. Leon was not a member of the Church but he did not object to Alice attending the Church.(I will cover more about this when I give my history) They had two children. I was in Europe in the Army when Leon had a heart attack and passed away. Dale, Melvin and Orland were there at that time so they would not let me come home.
Alice moved to another house in ElMonte and Married Fin. He was good to the kids and her. After he passed away, Alice moved to Glendora in a trailer and then moved in with Claudia and Richard. They were real good to her. She died at 97 years of age.