Orson Hyde Eggleston wrote a journal account of his journey in the fall of 1885 to Star Valley and recorded the early settling of Afton Wyoming. Part 1 covers November and December of 1885.
Some years ago Virgie Eggleston Stoffers gave a photocopy of Orson Hyde Eggleston's journal to my father. I think it was some time after that, but in the late 1990's, that I found this at my father's home. A typed note indicated that Virgie had made a photocopy in 1982 from the original which was then in the possession of Theron Eggleston.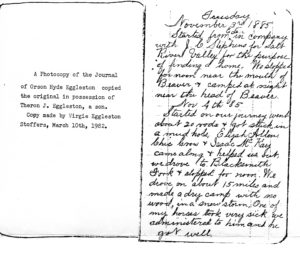 When I visited Theron's daughter Ruth, I did not find the original notebook there. It may have been, but it was not something that I saw. It does appear that Virgie might have written over the writing on her copy in places to try to make it darker. It is not an easy read, and some places numbers don't make sense as written. At some point I painstakingly transcribed the whole thing. Much of it consists of weather reports, but there are accounts of interesting events during this six month period from November 1885 to May 1886. Because of the length I have broken it into three parts. Part 1 covers November and December of 1885.
THE JOURNAL
Tuesday, November 3rd 1885
Started from Eden in company with J. C. Stephens for Salt River Valley for the purpose of finding a home. We stopped for noon near the mouth of Beaver and camped at night near the head of Beaver.
Nov 4th 85
Started on our journey went about 20 rods and got stuck in a mud hole. Elijah Allen, Chic Grow & Isaac McKay came along and helped us but we drove to Blacksmith Fork and stopped for noon. We drove on about 15 miles and made a dry camp with no wood, in a snow storm. One of my horses took very sick we administered to him and he got well.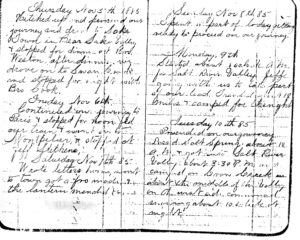 Thursday Nov 5th 1885
Hitched up and pressed our journey and drove to Lake Town in Bear Lake Valley and stopped for dinner at Bro. Weston. After dinner we drove on to Swan Creek and stopped for night with Bro. Cook.
Friday Nov 6th
Continued our journey to Paris and stopped for noon. Fed our train and went on to Montpelier and stopped at Jeff Stephens.
Saturday Nov 7th 85
Wrote letters home, went to town, got a [fro] made and the lantern mended.
Sunday Nov 8th 85
Spent a part of today getting ready to proceed on our journey.
Monday 9th
Started about 8 o'clock a.m. for Salt River Valley. Jeff going with us to take part of our load. Traveled about 18 miles and camped for the night.
Tuesday 10th 85
Proceeded on our journey. Passed Salt Spring about 10 a.m. and got into Salt River Valley about 3:30 p.m. and camped on Crow Creek about the middle of the Valley on the [west] side. Commenced snowing about 10 o'clock at night.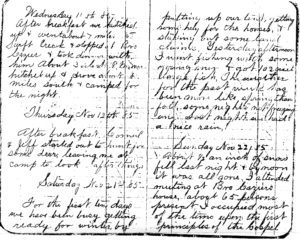 Wednesday 11th 85
After breakfast we hitched up and went about 7 miles to Swift Creek and stopped at Bro. Cazier and took dinner with him about 3 o'clock p.m. We hitched up and drove about 8 miles south and camped for the night.
Thursday Nov 12th 85
After breakfast Corneil and Jeff started out to hunt for some deer, leaving me at camp to look after things.
Saturday Nov 21st 85
For the first ten days we have been busy getting ready for winter by putting up our tent, getting some hay for the horses, & staking out some land claims. Yesterday afternoon I went fishing with some young men. I got [102 ?] quite large fish. The weather for the past week has been more like spring than fall, some nights not freezing any. Last night we had a nice rain.
Sunday Nov 22, 85
About 1/2 an inch of snow fell last night and by noon it was all gone. I attended meeting at Bro. Cazier's house about 65 persons present. I occupied most of the time upon the first principles of the Gospel and was followed by Bro. Chas D. Cazier who bore testimony to my remarks and took up a few items of business. Spoke of the necesity of building a meeting house. The people voted to build a meeting house & go next Wednesday to go & haul the timber. Spoke of petitioning for a post office and voted for M Cazier to be Postmaster. We partook of the Sacrament & the spirit of the Lord seemed to be with us.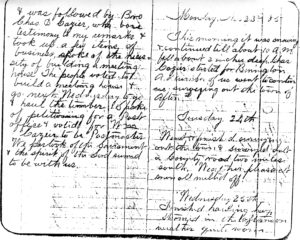 Monday Nov 23rd 85
This morning it was snowing and continued till about 10 a.m. fell about 2 inches deep. Chas Cazier started for Bennington. A number of us went to continue surveying out the town of Afton.
Tuesday 24th
Went & finished surveying out the town and surveyed out a county road two miles south. Weather pleasant snow all melted off.
Wednesday 25th
Finished hauling hay. Stormed in the afternoon weather quite warm.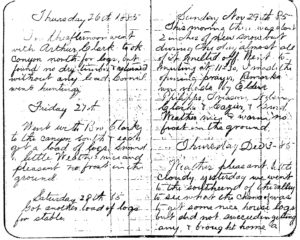 Thursday 26th 1885
In the afternoon went with Arthur Clark. Took canyon north for logs, but found no dry timber and returned without any load. Corniel went hunting.
Friday 27th
Went with Bro. Clark to the canyon south and each got a load of logs. Snowed a little Weather nice and pleasant no frost in the ground.
Saturday 28th 85
Got another load of logs for stable.
Sunday Nov 29th 85
This morning there was about 2 inches of new snow but during the day almost all of it melted off. Went to meeting at 11:30. I made the opening prayer, Remarks were made by Elders Philips, Treasure, Nelson, Clark & Cazier & Hurd. Weather nice and warm, no frost in the ground.
Thursday Dec 3 85
Weather pleasant, little cloudy. Yesterday we went to the south end of the valley to see what the chance of was to get some nice house logs but did not succeed in getting any & brought home a nice load of quaking asp wood. Today we went to Fast Meeting. the house was full. Some being present who did not belong to the church. I was called upon to speak occupied about 20 minutes on the first principles and was followed by Br. Arthur Clark who bore a strong testimony. also President Cazier offered a few remarks for the encouragement of the Saints. In the evening we went to a social party and danced till about 12 o'clock and enjoyed ourselves very much 15 couples present. 2 baptized this morning August & Chas Semburg.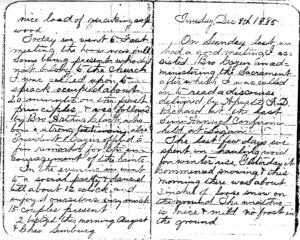 Tuesday Dec 8th 1885
On Sunday last we had a good meeting. I assisted Bro. Cazier in administering the Sacrament after which I was called on the read a discourse delivered by Apostle F. D. Richards at the last Semi-Annual conference held at Logan. The last few days we spent in hauling wood for winter use. Yesterday it commenced snowing and this morning there was about 3 inches of loose snow on the ground. The weather is nice and mild no frost in the ground.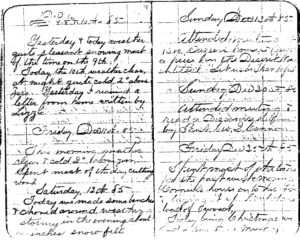 Dec 9th & 10th 85
Yesterday and today weather quite pleasant, snowing most of the time on the 9th. Today the 10th weather clear at night quite cold 2 o above zero. Yesterday I received a letter from home written by Lizzie.
Friday Dec 11th 85
This morning weather clear and cold 2 o above zero. Spent most of the day cutting wood.
Saturday 12 85
Today we made some benches and [chored] around. Weather stormy in the evening about [?] inches snow fell.
Sunday Dec 13th 85
Attended meeting at Bro. Cazier's house. Read a piece in the Deseret News entitled "Let us be Thankful".
Sunday Dec 20th 85
Attended meeting and read a Discourse written by Pres. Geo. Q. Cannon.
Friday Dec 25th 85
I spent most of the time for the past week moving Corniel's house on to his lot and laying it up. load of wood.
Today being Christmas we had a fine time. Most of the people of the valley met at Bro. Cazier's house and had a picnic dinner, about 95 persons being present. Had a joyful time and lots of food left. In the afternoon the children had a dance and enjoyed themselves first-rate. In the evening the older folks indulged themselves in the dance till midnight. Had supper about 10 o'clock in the evening.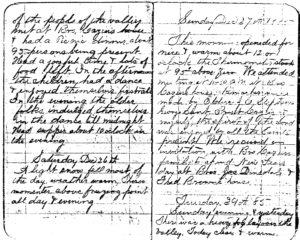 Saturday Dec 26th
A light snow fell most of the day weather warm. Thermometer above freezing point all day and evening.
Sunday Dec 27th 1885
This morning [opened] for nice and warm, about 12 or 1 o'clock the thermometer stood at [?5o] above zero. We attended meeting at 11:30 a.m. at Bro. Cazier's home. Remarks were made by Elder J. C. Stephens, George Sant, Prest. Cazier and myself. The spirit of the Lord was enjoyed by all the Saints present. We received an invitation with Bro. Cazier's family to spend New Years Day at Bro. Jas Dinsdale and Fred Brown's house.
Tuesday 29th 85
Sunday evening and yesterday there was a heavy fog lay over the valley. Today clear and warm.
Wednesday Dec 30th 85
This morning and last night a light snow fell. Weather moderate 31 o above zero. About the middle of the afternoon there was quite a wind blew from the west which drifted the snow a little. The snow being about 6 inches deep. The wind blew of spells all night.
Thursday Dec 31st 85
The wind continued blowing most of the day. Some of the time from the south, not very cold some of the time 21 o above zero. meat of chopping stove wood.
Orson's experiences of 1886 are continued in Part 2 and Part 3. A summary of this journal account is included in The Joseph Eggleston Family: Seven Generations from Joseph (d.1767) of Stonington, Connecticut to Joseph (1885-1965) of Utah and Wyoming, pp. 416-417.