Catherine Kat Eggleston has always been somewhat of a mystery to me. It was only recently that I found, through what others have posted to FamilySearch, that her full name was Trijntjie Catherine Kat Eggleston. I found other bits of very intersting information there. She is still somewhat of a mystery, but now a much more intriguing and fascinating mystery.
The Family Bible Record
The first I knew of Catherine was from Orson Hyde Eggleston's Family Bible. The record there lists 3 wives for Orson's father Samuel Eggleston. His first wife, and the mother of his children, was Lurania Powers Burgess. The record lists 2 other marriages which both occurred shortly after Lurania's death in July 1870.
Samuel married Mary Elizabeth Mumford October 24, 1870. She is a total mystery. I have found no other information about her and she seems to have disappeared from Samuel's life very shortly after this marriage.
Samuel was married to Catherine Kat March 6, 1871 in the Endowment House in Salt Lake City by Daniel H. Wells. Catherine was born April 5th, 1836, making her 35 years old at the time. Samuel was 67.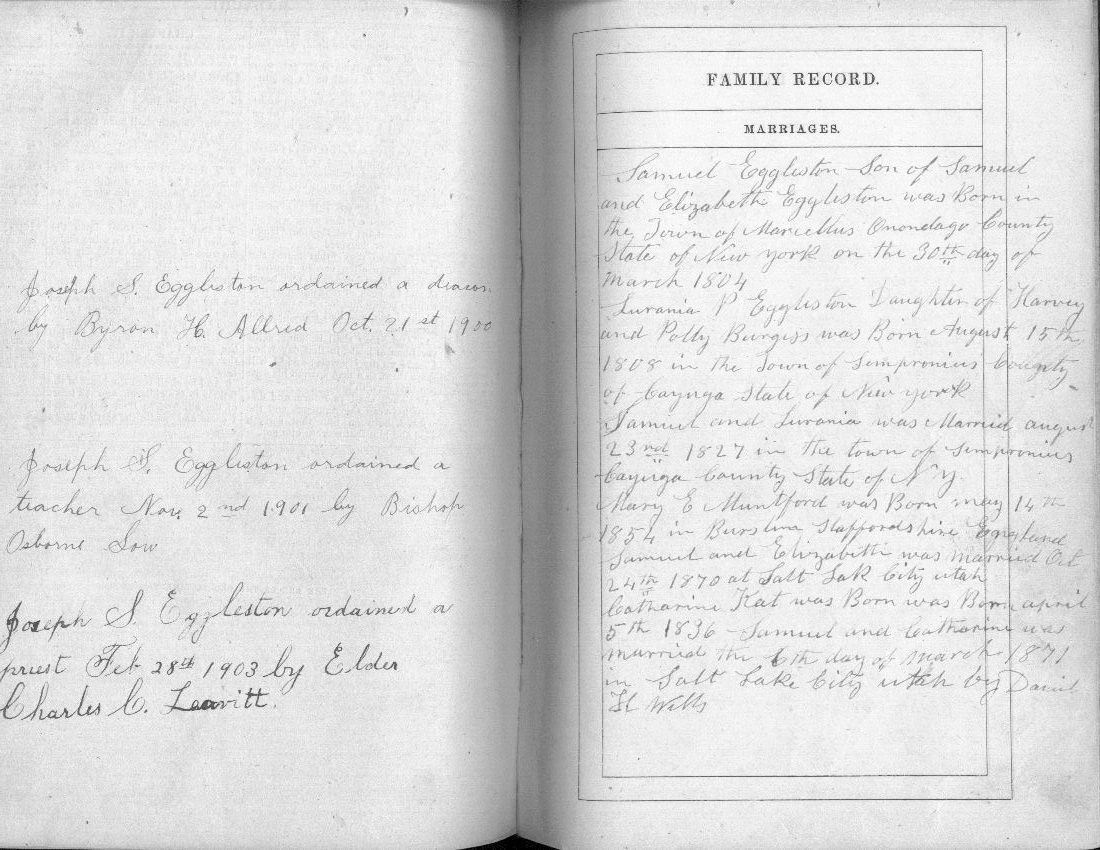 Other Bits and Pieces
I learned that Catherine was born in Holland on April 5,1836. I assumed that she was a recent immigrant who had come to Utah as a single woman. In the 1880 Census she was 45 years old and living in Ogden, Utah with Samuel, who was 76.
I learned her parents names early on in my research. The Ogden 2nd Ward Records list Samuel and Katherine as members. Katherine was baptized April 8, 1868.  (Another record has the date 29 June 1868 in Zaandam, Lammers, Netherlands) The record gave her parents names as Peter Kats and Elizabeth Blue. I also found that she had done Tempe work for them in the Logan Temple.
Learning from Catherine's Death
I learned much more about Catherine from finding records of her death. Catherine Kat Eggleston died September 8, 1888. The Ogden Standard published the following on September 12, 1888:
Card of Thanks. EDITOR THE STANDARD: With your permission the undersigned would like to express their heartfelt thanks to the many friends of the late Catherine Eggleston for their kindness and assistance during her short and severe illness, and also especially thank the Second Ward choir for their beautiful singing during the funeral services. The kindness shown to her before and after her death will never be forgotten. R. B. EGGLESTON, MRS. MARY E. FARR
Reuben worked for the newspaper, so it is not surprising that he had this printed. It does seem to indicate that Samuel's children had good feelings toward Catherine. Orson also included in a letter to his father from his Mission, "my respects to Catherine and all the rest."
According to the terms of his Will, Samuel had left Katherine all of his personal property, with his land to go to his children Reuben, Orson and Mary, after Catherine's death. Samuel wished to "provide for the support and maintenance of my beloved wife Katherine Eggleston as long as she may live, and in a suitable manner as the condition of my estate will provide." She was allowed to occupy and control his real estate, including benefiting from rents and profits. She may have rented out rooms in the house.
Upon Catherine's death, Thomas Doxey and Warren G. Child were made administrators of her estate. A Notice to Creditors was published in the newspaper in November and December 1888, by Thomas Doxey. The personal property was inventoried and sold at auction. Her estate was settled in the Probate Court of Weber County April 21, 1890. Final distribution to heirs-at-law was set for Saturday the 17th day of May, 1890.
Catherine's Family
I learned the names of Catherine's siblings from her probate record. Heirs listed in the probate record included brothers John [Jan] Kat of Velzen, Holland; Herman [Hermanus] Kat of Wormeveer, Holland; Henrika Kat Koelevaart, wife of John Koelevaart; and children of her deceased sister Angie Kat de Ruyter, including Semelia Jacoba, Elizbeth and Anna Catharine de Ruyter, all of Amsterdam, Holland. These heirs conveyed their rights and interest in the estate to Ida Zitzman, a widowed immigrant from Holland, who lived in Katherine's ward with her six children.
Catherine's Final Resting Place?
The Ogden City Cemetery Records show Lurania buried in Lot B-2-30 1E; Samuel in B 2-30 2E; and "Adult Mound" B 2-30-3E. There is nothing in the record to indicate who was buried in this third plot. Orson Eggleston bought a 10 plot Lot in the Cemetery, probably at the time his mother or first child died. It appears that they were not all used, and the rest later sold to others, as Orson moved to Afton, Wyoming and his family were buried elsewhere. It is likely that Catherine was buried next to Samuel in this other plot. Catherine had no children, so Samuel's family may have buried her there, but never placed a marker. We may never know for sure, who is in this "Adult Mound", but there have been no other records found to indicate that Catherine was buried anywhere else.
Recent Discoveries
This was all I knew of Catherine for some time, and I thought this was all I might ever know. But we now live in a digital age with many more people interested in genealogy. I recently found on FamilySearch, not only Catherine's full name, but also her entire family and hints of her previous life in Holland.
Catherine was born Trintjie Catherine Kat, the daughter of Pieter Kat and Lijsbet Blaauw (The Dutch spellings of Peter Kat and Elizabeth Blue). Catherine married Peter Fontijin on November 3, 1861 in Zaandam, Netherlands. Peter had previously been married Geertjie Muntjewerff, who died July 7, 1861. They had six children, though one died as in infant and 3 others died in January 1862. So Catherine at 25 years of age, became instant Step-mother to five very young children and then buried 3 of them just months later.
Peter and Catherine were baptized members of the Church of Jesus Christ of Latter-day Saints in April 1868. Peter, along with other members of his family, was excommunicated shortly after being baptized.
It would seem that Catherine and Peter divorced at some point, though I haven't found a record of a divorce. It could have happened before Catherine came to America. Or possibly she came with the expectation that he would follow soon after and he changed his mind.
Catherine sailed for America August 25, 1869 on the ship Minnesota with Jantje, age 7 and Cornelia Fontijin, age 6, Peter's surviving children from his first marriage. There were 443 Immigrating Saints on this ship. They arrived in New York September 6, 1969. They then traveled by train to Ogden, arriving there September 16, 1869. An obituary of Jantje – Jeanette F. Dartnell – indicated that this was the first passenger train to arrive in Ogden.
What Happened to Peter Fontijin
Peter married a third time to Henedricka von Elburg July 30, 1876 in Amsterdam. Peter was re-baptized into the Church of Jesus Christ of Latter-day Saints June 17, 1876. Hendericka, who was then listed as a widow, was baptized on June 20, 1876, shortly before their marriage. Peter and his wife, known later as Harriet, came to Utah in 1877. They lived in Salt Lake City. Harriet was an ordained preacher of spiritualism, and apparently held seances. Peter died March 27, 1905 in Salt Lake City. It appears that even though he was re-baptized into the L. D. S. Church, he did not remain a faithful member, but joined his wife in spiritualism. Possibly his re-baptism was in part to be able to immigrate to America with L.D.S. Church immigration.
Questions
Catherine came to Utah with two young children. The ages given on the immigration record do not match with the birth records of the daughters of Peter and Geertjie. They should have been a little older – 10 and 12 years old, as indicated not only by their birth dates, but by the length of residence in Salt Lake City when they died. It is possible that preparations for immigration were begun years earlier and those ages for the children remained on the records. Catherine's age of 36 at the time of immigration is also incorrect, though it is a few years older than she was.
I have not been able to find Catherine or these girls on the 1870 Census, so that early time in Utah is a mystery. Cornelia/Nellie was married in 1876 and Jantjie/Jeanette in 1882 in Salt Lake City.
Did Catherine care for these girls until her marriage to Samuel? Were they all living together after Catherine was married? We do not know for sure where Catherine was living before she married Samuel. It would seem more likely that they became acquainted in Ogden, rather than Salt Lake City.
If these girls were not with Catherine, as seems the case, then who were they with? Did Catherine bring the girls to live with someone else in Salt Lake City? They were too young to be on their own, so must have lived with someone for those first years. They could have joined their father when he immigrated in 1877.
Peter and his daughters all lived in Salt Lake City for the rest of their lives. Obituaries for Cornelia/Nellie Heystek's says that she resided in Salt Lake City since she came to Utah. One says that she came to Utah with her sister at age 10. Jeanette's death certificate indicates she lived in Salt Lake City for 77 years, which would date back to their 1869 immigration. Nellie's says she was a resident for 61 years when she died in 1929.
These girls were very young when their father married Catherine, so she would have been the only mother they ever knew. Yet, they were not listed as heirs in Catherine's probate record. Records of these girls show no connection at all to Catherine, as if she was just someone with the same surname who immigrated on the same ship or possibly someone hired to escort them to America. So though we have a little more history, Catherine remains somewhat of a mystery.
A Note on Name Spelling
I have seen her name spelled Catherine, Catherina, and Katherine on different records. The papers in Samuel Eggleston's probate record have her name spelled Katherine. Samuel spelled it that way in his will. In the signature space on the probate papers however, it shows it was signed with X – her mark. So Catherine was likely illiterate herself and others spelled her name as they felt it should be.