The old church records that my father and I found at the Rose Hill/Thorn Hill Baptist Church on our visit in 2001, proved to be a wealth of information about our Eggleston family. The Articles of Faith and Covenant, along with church membership lists are in a previous post. The first excerpts of entries pertaining to Eggleston family members from the beginnings of the church in 1807 until 1811 are in Part 1. This post, Part 2 covers the years 1812- 1816.
1812
Isaac Skeels, who later married Samuel Eggleston Jr.'s daughter Anna, joined the Marcellus Church June 7, 1812, along with his brother Truman Skeels.

1813
The Skeels began to have difficulties with the Church shortly after joining. Nathan Eggleston and Luther Manley were sent to visit Simeon Skeels, Isaac's father, and request he attend a meeting. Deacon Thompson had received a letter from another church mentioning a difficulty with Simeon Skeels and the wife of Jedidiah Hurd. Unfortunately, I did not copy the next page, so this issue is left hanging.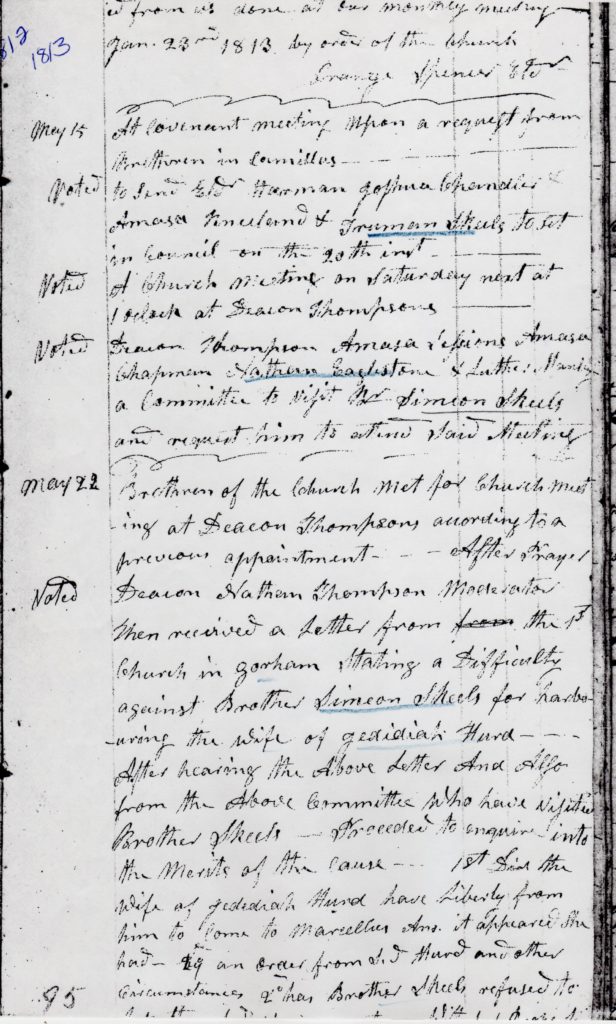 Later in the summer of 1813, probably August, Betsey Eggleston was baptized along with Sally Berry. There were a number of Betsey Egglestons. One, Samuel Jr.'s wife had been baptized in the early days of the church, her name being given as Elizabeth in that record. John B. Eggleston married Betsey Hoxie about 1810, so this could be her. Benjamin Eggleston married Elizabeth Wiltse and they were active members later.

1814
Simeon Skeels difficulties had not just been with his previous church. Another issue was brought before the church in 1814. This was about dificulties he had with individual of the church and refusing or neglecting to attend to the difficulties. Nathan Eggleston was again one sent to work with him.
I am including this letter of exclusion for Betsy Johnson because it is probably typical of those letter than some of our family members received.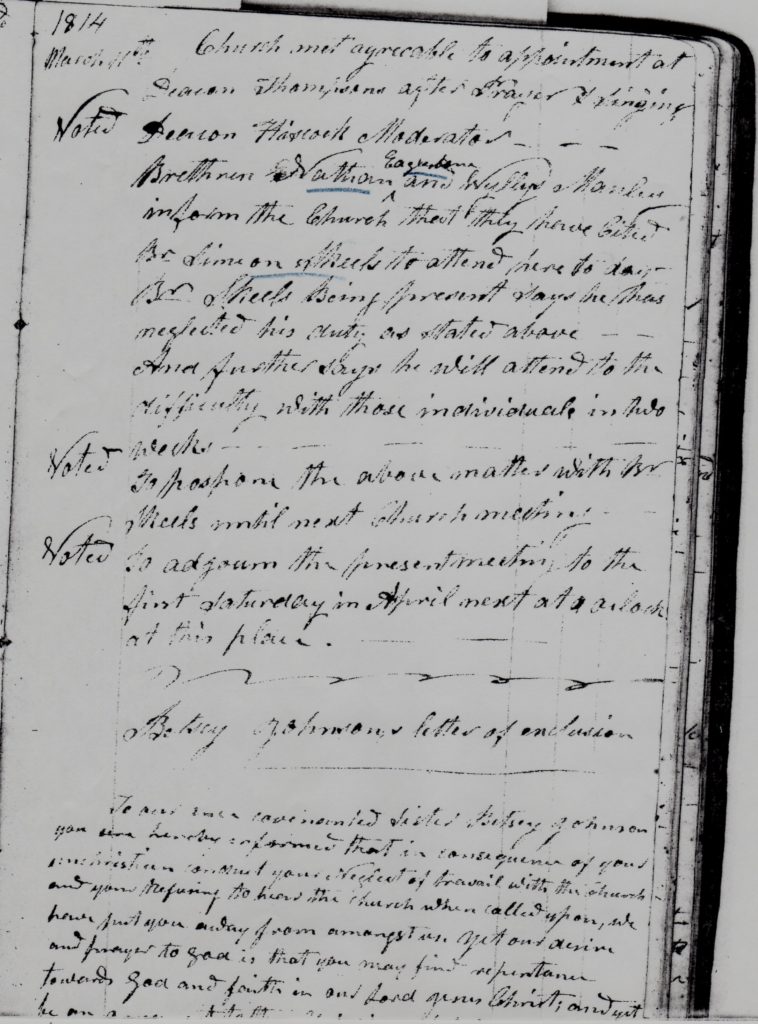 This matter between Simeon Skeel and Brother and Sister Hurd was apparently resolved in April.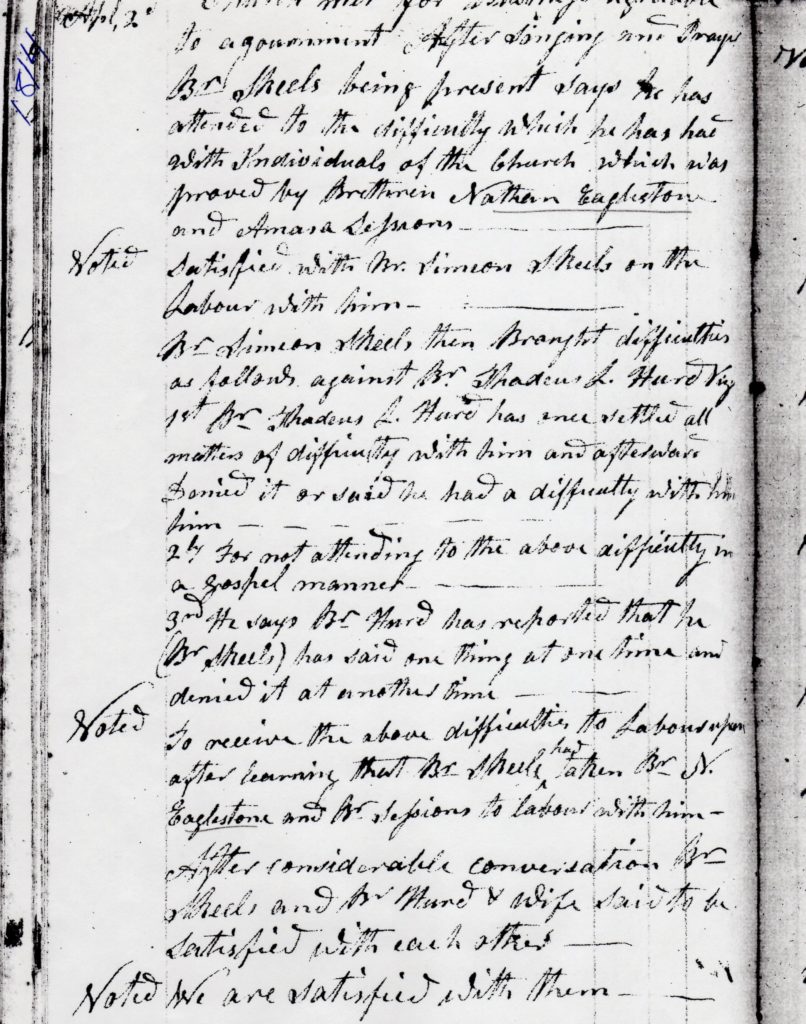 Later in 1814, Simeon and Isaac Skeels apparently were becoming involved with Universalism. Nathan Eggleston was sent with Deacon Thompson to visit them.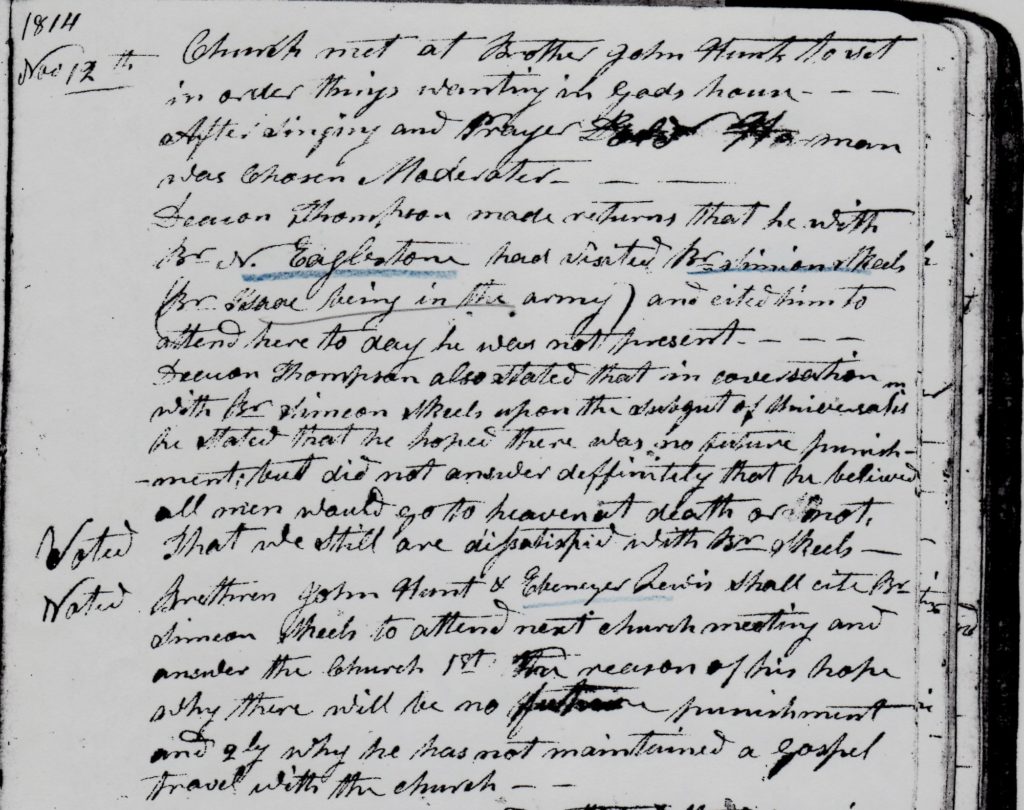 1815
In 1815, apparently after church leaders and members working with the Skeels, Isaac excluded from the church.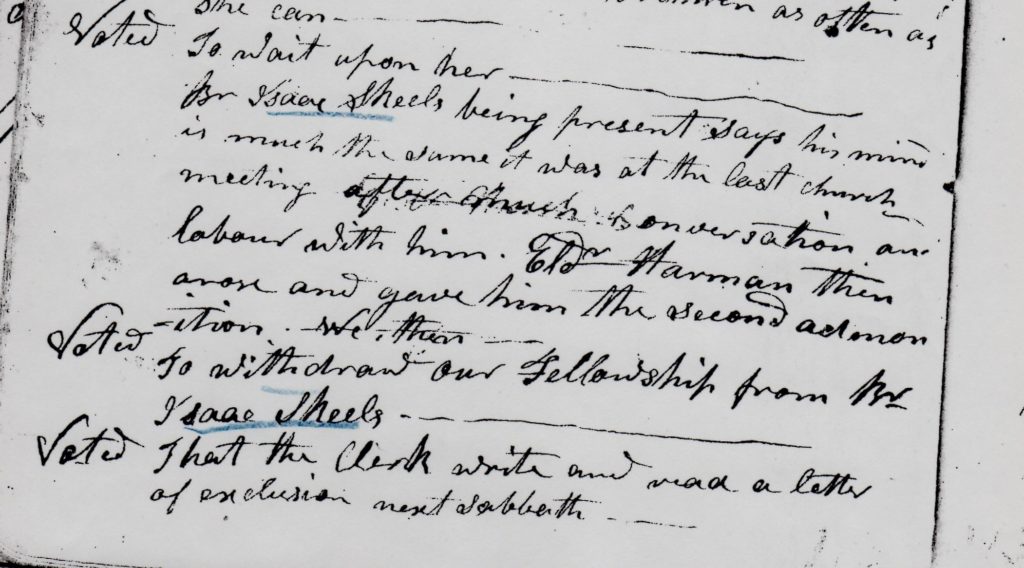 1816
Though Isaac Skeels had been excluded, the church was still working with Truman Skeels in 1816. Nathan Eggleston was sent with John Hunt to visit him.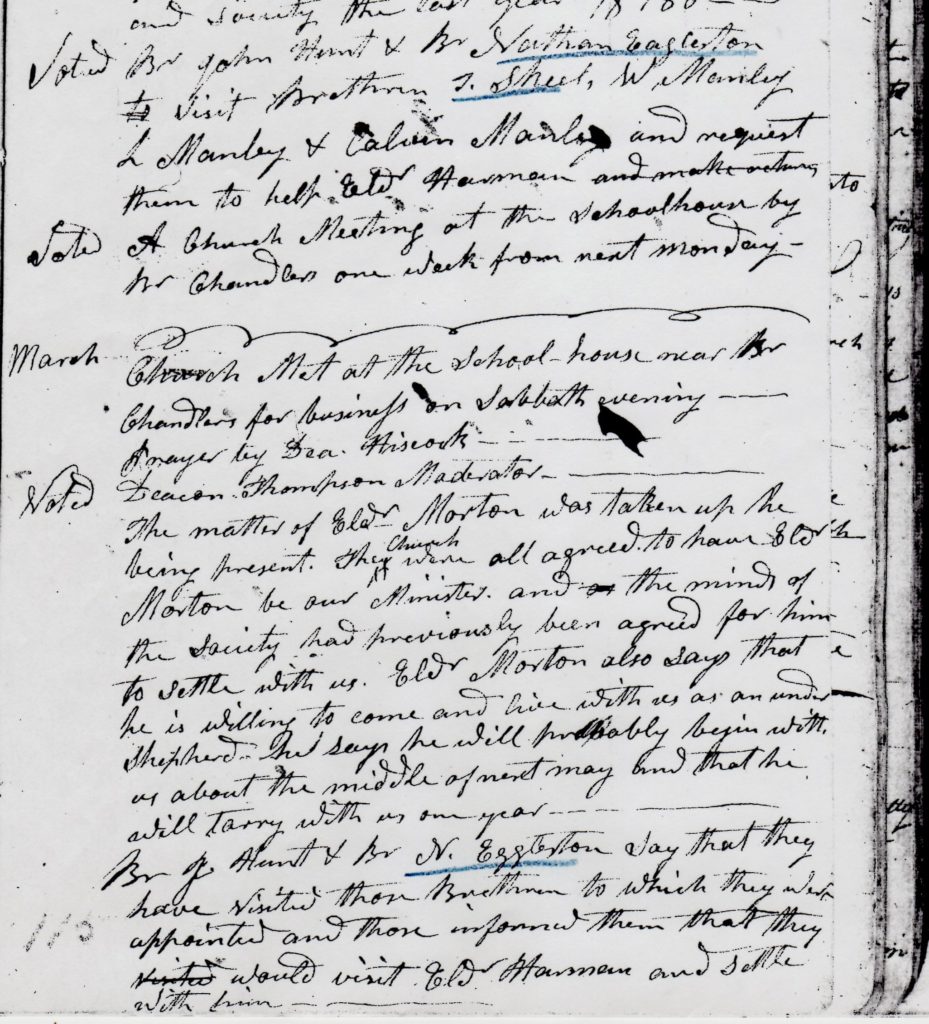 Note:
The Marcellus Baptist Church Records continue in another blog post: Part 3 1816-1819.
In my book, The Joseph Eggleston Family: Seven Generations from Joseph (d.1767) of Stonington, Connecticut to Joseph (1885-1965) of Utah and Wyoming (Including Maternal Lines: Hill, Burgess, Titus, Sammis & Johnson) church record entries for specific people are discussed there under the heading CHURCH RECORDS. Background information about this church is included in Appendix B THE BAPTIST CHURCHES.