It never ceases to amaze me how a simple question can lead to the discovery of a whole family
MAKING THE CONNECTION
In August 2014, I received an email from Jill in Cornwall, England asking about some Eggleston deeds that I had posted on the Cayuga County, New York Genweb page that she had not been able to access. I was going through a family crisis at the time, so neglected to respond to her for a few months. When I finally did, I asked her which Egglestons she was hoping to connect to these deeds. Her response sent me on a quest. The result of this collaborative effort with Jill resulted in what I believe is an expansion of the family tree and possible solution to a mystery.
Jill was trying to find information about Leonard Eggleston, who was the son of Nathan Eggleston and Laura. This family had lived in Auburn, Cayuga County for some time. These names jumped out at me. I had listed a Leonard Eggleston among the mystery Egglestons at the end of my book. (P. 649-650) I first found mention of a Leonard Eggleston in the records of the First Baptist Church of Marcellus, which was in neighboring Onondaga County. He was on lists of Church members, one dated 1849.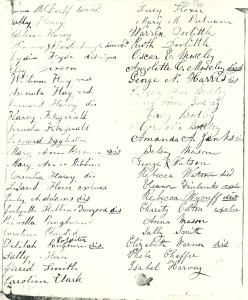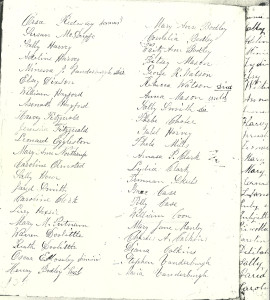 There was also a Laura Eggleston mentioned in those same church records. Laura had joined the church by letter in 1817. The records did not say from where or when she came to Marcellus. Oliver Eggleston joined the church about the same time. Oliver later had difficulties with the church because of foul language. Giving testimony about these allegations were his brothers Nathaniel and Edward and also Laura Eggleston. Edward and his wife Sybil lived in various towns in Cayuga County.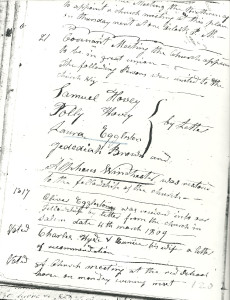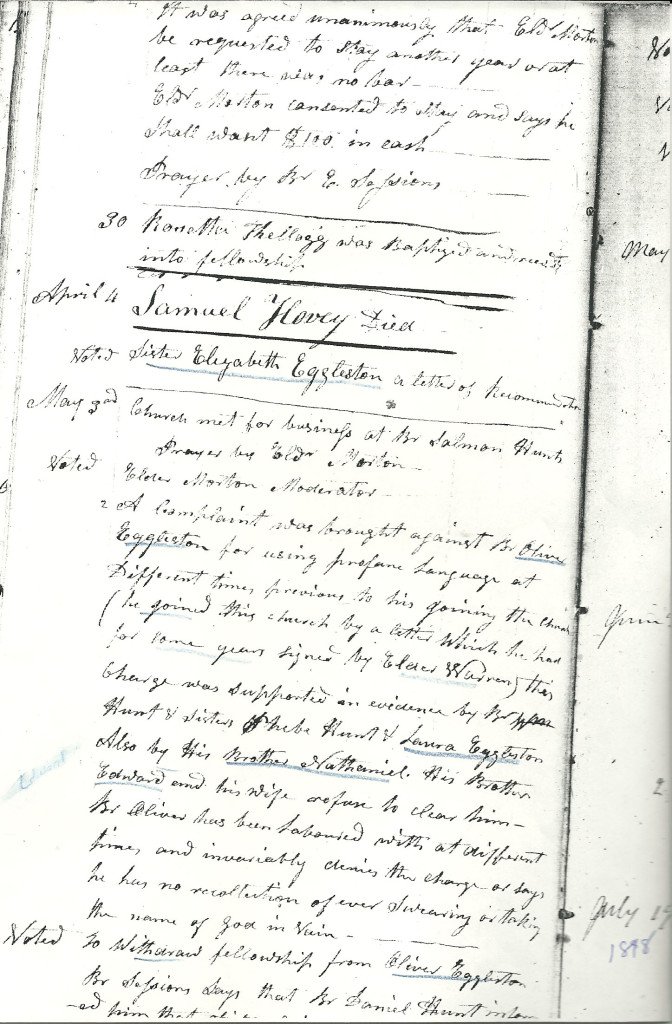 There were three Nathan Egglestons in Marcellus at one time. Samuel Eggleston had a son Nathan who also had a son Nathan, but in the 1810 and 1820 Census there was an extra Nathan. In 1810 the name reads NathanL. I had thought that this extra Nathan might be the Nathaniel mentioned in the Church records, which would make him a brother of Edward and Oliver.
Which Leonard?
I had found a Leonard Eggleston who was born January 19, 1824 in Skaneateles, New York and had a wife Adeline. They were in the 1850 Census in Dryden, Thompkins, New York, then later in Michigan. This is the information I included in the Mystery Egglestons section of my book. Frank E. Robbins in his "Egglestons in the Michigan Census" placed this Leonard in the line of Bygod's son James. I had made an assumption that the Leonard in the Marcellus Church records was the Leonard with Adeline in Thompkins, Co., but now was questioning that.
It appears that this Leonard in the Church records was the son of the Nathan and Laura who had also been in Marcellus for a time. The fact that they had lived in Auburn also made sense to me because if this Nathan/Nathaniel was the brother of Oliver and Edward, he likely was also the brother of Richard C. Eggleston and Joan Eggleston Lewis who had also lived in Auburn. Richard died in Auburn after being cared for by his sister Joan. His descendants have a number of family letters, one of which mentions 'Old Uncle Nathan'.
Clues
Jill shared some other bits of information about Leonard's family. She had his death certificate which indicated that Leonard married Olive Whiting when he was 26, which would have been between May 1848 and 1849. Her family was living in Marcellus in 1820.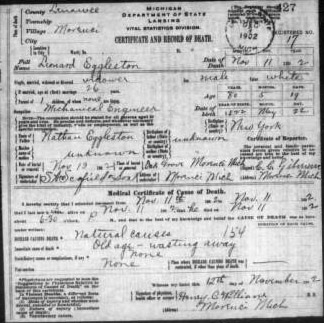 Jill had found a Legal Notice posted after the death of Robert T. Mitchell of Homer, Cortland, New York. It was directed to Elizabeth H. Birch of Seneca Falls and Lillian Berry, daughter of Charles Eggleston, and to any other possible heirs.
With the information in this notice and some searching, we were able to piece together this family. It was interesting to me that though Nathan and Laura had ten children, they actually had very few descendants after two generations.
Nathan Eggleston and Family:
Nathan Eggleston was born about 1788 in Massachusetts. He apparently died before 1850, possibly before 1840. His wife Laura was born about 1794 in Vermont. She probably died before 1880.
1810 Census Marcellus, Onondaga, NY: NathanJ Eggleston 1 male under 10; 1 male 26-45; 3 females under 10; 1 female 16-26. (There were 2 Nathans in the same town. This Nathan should have been 22. Laura would have been rather young to have 4 children. The enumerator of this particular census used many abreviations, ie. Saml, Benjm, Jno. The J after Nathan has no space and does look more like other J's than the small l and he is listed next to a Nathaniel which is written out)
1820 Census Marcellus, Onondaga, NY: Nathan Eggleston 1 male under 10; 1 male 10-15; 1 male 26-45; 2 females under 10; 2 females 10-16; 1 female 16-26; 1 female 26-45. (There were 3 Nathans in this census, but Nathan and Nathan Jr. were near each other and this is the other. This appears to be the same family as in 1810, but the some of the children were older than Nathan & Laura's.)
1830 Census Auburn, Cayuga, NY: NathanL 2 males 5-10; 1 male 10-15; 1 male 40-50; 1 female under 5; 1 female 10-15; 2 females 15-20; 1 female 30-40.
CHILDREN OF NATHAN EGGLESTON AND LAURA:
Miriam Eggleston was born 1811 Wash Co., NY and died before 1880 (Nathan was in Marcellus in 1810 and Laura would have been about 17 at Miriam's birth) Miriam married Robert Mitchell. He was born 1810 and died before 1880.
1850 Census Preble, Cortland, NY: Robert Mitchell 41 Ireland; Miriam 39 NY; Robert 16 NY; Miriam 11 NY.
1855 NY Census Homer, Cortland: Robert Mitchell 45 Ireland, laborer, naturalized; Merian 43 Wash Co; Robert T. 21 Herkimer; Miriam C. Mitchell dau 15 Cayuga.
1860 Census Preble, Cortland: Robert Mitchell 51 Ireland; Miriam 50 NY; Robert F 26 NY; Miriam C 20 NY.
1865 NY Census Preble, Cortland: Robert Mitchel 57 Ireland; Miriam 55 Wash Co. Mother of 2; Robert T 29 Oneida; Miriam C. 25 Cayuga; Mary Mitchel 78 Ireland.
1870Census Preble, Cortland: Robert Mitchell 60 NY; Robert 36 NY; Misin 60 NY; Misin C 30 NY; William Curay 17 NY; Dorcas Ellis 58 NY.
1880 Census Preble, Cortland: Robert Mitchell 45 NY; Miriam sister 40 NY.
1900 Census Preble, Cortland: Miriam Mitchell 61 NY; Robert T bro 66 NY; William Curie 49 NY servant.
1910 Census Preble, Cortland: Robert T Mitchell 75 NY; Miriam 70 NY.
Children of Miriam Eggleston and Robert Mitchell:
Robert T. born June 1834 – never married
Miriam born Sept 1839 – never married
Dorcas Eggleston was born 1814 Wash Co., New York. Dorcas married Charles W. Hallis, who may have died before 1855. She may have had a son.
1840 Census Skaneateles, Onondaga, New York: Charles W. Hallis 1 male under 5; 1 male 20-30; 1 female 20-30.
1855 Census with Laura Turney
1860 Census with Joseph Eggleston
1880 Census with Laura Turney
Cynthia Eggleston was born 1815 Onondaga Co. and died Nov 17, 1879 New Jersey. Cynthia married Andrew Bradley.
1850 Census Watervliet, Albany, NY: Andrew Bradley 28 England, Cynthia 34 NY; Permelia 0 NY; Laura Eggleston 55 NY; Enoch Miller 28 Germany, Joseph Miller 20 Germany.
1855 NY Census Watervliet, Albany, NY: Andrew Bradley 36 England; Cynthia 39 Tioga; P Bradley 5 Albany; Laura Eggleston 61 Vermont; P Sherman 17 boarder Saratoga.
1860 Census Preble, Cortland, NY: Andrew Bradley 38; Cynthia 44; Permelia 10; Albert 3; Mariah Eastwood 9; William H. Eastwood 5.
1865 NY Census Cortland, NY: Andrew Bradley 47 Eng; Cynthia 51 Onondaga 5 children; Permely C Bradley 15 Albany; Albert A 7 Herkimer; Laury Eggleston 70 mother-in-law widow, mother of 10 children.
1870 Census: Andrew Bradley 49 England, citizen, cotton mill; Cynthia 54 NY; Permelia 20 NJ, cotton mill; Albert 12 NJ.
Marriage record: John Newcomb age 21 (bn 1852) md Permelia C. Bradley age 23 (b 1850) md 22 Nov 1873 Cumberland, New Jersey. John son of Hezekiah & Mariah Nixon. Permelia daughter of Andrew & Cynthia Bradley.
1900 Census Rio Grand Village, Cape May, New Jersey: John Newcomb 46 Aug 1853 Ireland, at sea; Permaelia 50 Jan 1850 NY, 26 yrs md 1 child; Minnie Newcomb 22 NJ Feb 1888; Bernard Tronnem 26 Aug 1823 Norway boarder.
1910 Census Wildwood, Cape May, New Jersey: John Newcomb 59 NY livery stable; Permelia 60 NY Eng NY 26 yrs md 1 child; Minnie dau 32 NJ NY NY
Next household: Albert Bradley 52 NY Eng NY laborer streets; Andrew son 23 NJ, NY NJ; Smither son 21 NJ NY NJ; Bertha dau 18 NJ NY NJ.
Children of Cynthia Eggleston and Andrew Bradley:
Permelia C. born January 1850 – married John Newcomb. He was born 22 Nov 1873 Cumberland, NJ
Albert A. born 1858
James Eggleston was born 3 March 1822 (probably 1821) and died 3 July 1893 (3 Rivers, Michigan) James married Jerusha Frisbie. Jerusha A. Egleston died 18 June 1855 Marshall, Calhoon, Michigan – wife of James 30 years old.
1850 Census Seneca Falls, NY: James 29 NY wood turner, Jerusha 24 NY, Jane/Jean 7, William 5, Helen 2.
1870 Census, Lockport (3 Rivers PO), St. Joseph, Mich – James 49 NY machinist, Alice 25 Mich, William 23 NY machinist.
1880 Census 3 Rivers, Mich: James Eggleston 57 NY; Frank son 7 Mich; Alcie 36 Mich wife.
Death Record James Eggleston: d. 3 July 1893 Three Rivers, St. Joseph, Michigan, b. 1822 NY, machinist. Father Eggleston, mother Elen Clark.
Children of James Eggleston & Jerusha Frisbie:
Jenny (Jane) born August 1846 (1843)
William born July 1847 (1845)
Helen born 14 June 1850 d. 24 Feb 1929 Flint, Genesee, Michigan (78) md. Silas P. Slocum 25 Oct 1869
Death Record Helen Slocum: d. 24 Feb 1929 Flint, Genesee, Michigan b. 14 June 1850 Seneca Falls, NY. Father James Eggleston, Mother Jerusha Frisbie.
Children of James Eggleston & Alcie/Alice:
Frank born 4 Aug 1872 Three Rivers, St. Joseph, Michigan
Birth record for Frank: Frank Eggleston b. 4 Aug 1872 Three Rivers, St. Joseph, Michigan. Father James Eggleston b. NY, Mother Alice Eggleston b. Michigan.
HELEN EGGLESTON – notes by Jill
I always thought it odd that there appeared to be 2 people called Helen Eggleston in Seneca Falls, one in 1850 and one in 1860 with 2 different families. I now think they were one and the same person.
Firstly, in 1850, there was the family of James Eggleston, wife Jerusha and children Jennie aged 7 (transcribed as Jane), William aged 5 and Helen aged 2. Secondly, in 1860, there was my husband's family, Leonard, Olive, Helen aged 10 and Charles C. Gilman b. 1844. On the basis of later and more accurate information, Jennie was born August 1846 and William July 1847.
Thanks to a legal notice I found in a newspaper via FultonsHistory, I knew that Leonard had a brother James so have assumed that the family referred to above was him. I can't find James on the 1860 census, but at some time the family moved to Michigan and Jerusha died on 18th June 1855, aged just 30. She is buried in Oakridge Cemetery, Marshall, Calhoun County. In 1855, Jennie would have been 9, William 8 and Helen just 5. Jane and William may have been old enough to work and help their father, but not Helen. I believe that Helen went to live with her uncle Leonard and Aunt Olive in Seneca Falls, perhaps immediately following Jerusha's death. Having looked at the 1860 US Federal census many times for my husband's family, I had always assumed that as Helen had the same surname that she was Leonard and Olive's daughter, but the 1860 census does not show relationships, so she may well have been their niece. They did have a son, George L, born 1st July 1850 who died in September 1851, but I had thought that he was Helen's twin.
Having found a Helen Eggleston I was interested in on Ancestry, via a Google search I found an extract from a book about the Slocums of America and the record of a marriage between Helen Eggleston and Silas P Slocum on 25th October 1869. It said that Helen was the daughter of James formerly of Seneca Falls. Thankfully, she lived to a ripe old age so the later census gives more information on her. She was actually born in June 1850, so in that year would just have been a few months old when the census was taken, not 2 – presumably the census taker should have recorded her as being 2 months old. I have come across that mistake before.
In addition, thanks to a lot of helpful people on Find-A-Grave, I know that the Helen Eggleston I thought was Leonard and Olive's daughter is not buried in the family plot at Restvale. The only other possibility as to what had happened to her was a marriage and therefore a change of name. This all fits with the other Helen.
The only fly in the ointment is in regard to James. He died on 3rd July 1893 and is buried at Three Rivers, St. Josephs, Michigan. His headstone gives his date of birth as 3rd March 1822. The date of birth I have for Leonard Eggleston (from his death certificate) is 22nd May 1822. One of these must be wrong. Certainly the census details for James give varying ages, but on the basis that he was born in March, the majority would make his year of birth 1821.
However, this conclusion does solve a mystery that has been puzzling me for a long time. Leonard's death certificate says "number of children 1 – number living 0". That child would be George with Helen as his niece.
Leonard Eggleston was born May 1822. He died November 11, 1902 in Morenci, Michigan. (see death certificate above) Leonard married Olive Whiting about 1848. She died 1889 in Chesterfield, Ohio. Olive was daughter of Jeremiah W. Whiting (4-18-1791 MA) and Nancy (11-9-1796) Jeremiah was in Marcellus 1820 26-45 no children. (Older Jeremy Whiting 1810) In 1840 Seneca Falls there was a multi-generation Whiting family.
1850 Census Seneca Falls, NY: Truman Elendorf 24 NY baker, Ana 18, Charles 2, Tia 1/12; Leonard Eggleston 28 machinist, Olive 27 NY, Charles Gilman 5 NY.
1860 Census Seneca Falls, NY: Leonard Egleston 38 NY; Olive 36 NY; Charles Gilmore 15 clerk; Helen Eggleston 10.
1870 Census Seneca Falls, NY: Leonard Eggleston 47 NY pattern maker; Olive 40 NY; Charles Gillman 25 machinist.
1880 Census Seneca Falls, NY: Leonard Eggleston 50 NY; Olive 49 NY; Maria Palmer sis-in-law 52 NY, father bn Mass, mother RI.
1880 Census Seneca Falls, NY – Charles Gillman 35 NY NY NY machinist, Delia 32 NY RI PA, Oliver Sisson 67 RI father-in-law.
1900 Census Morenci Lenawee, Michigan: Charles C. Gilman head Nov 1844 age 55 NY 13 yrs md; Sarah A. Wife Oct 1847 NY 52 (no children); Leonard Eggleston step-father May 1822 NY, NY, NY 78 widowed patternmaker wkd 12 months; Fred Slonslar boarder 24.
1910 Census Seneca, Lenawee, Mich: Charles C Gillman 65 NY 24 yrs md, Sarah N 60 NY mother of 0 children.
1920 Census Charlote Ward, Eaton, Mich – Charles Gilman 75 NY NY NY, Sarah 72 NY.
Find a Grave (Jill): Olive Gilman Eggleston b. 1824 d. May 16, 1889 Morenci, Lenawee, Michigan – photos of her stone and headstone for George L.
Children of Leonard Eggleston & Olive Whiting:
George L. Eggleston born 1 July 1850 – d. Sept 1851
Charles Gilman – son of Olive, apparently from previous marriage.
Joseph Eggleston was born 1824/1826 d. 21 Jan 1888 Seneca Falls. Joseph married Sarah Holliday before 1850. She died about 1859. He married Emily A. Holliday. She died before 1886.
1850 Census Seneca Falls, NY: N T Mose 26; Catherine 25; Persila 2; Stephen Mose 24; Sidney 19; Joseph Eggleston 24 NY wood turner NY; Sarah 21NY; Wm Woodmansee 23 tailor; ML Woodmansee 19.
1860 Census Seneca Falls, NY: Joseph Eggleston 36, NY; Laura 66 VT; Dorcas Hallis 46 NY; Fidell Turner 26, Wirt; Laura Turner 25 NY.
1870 Census Seneca Falls, NY: Joseph Eggleston 45 wood turner NY; Emily 36 dress-making NY; Elizabeth 1 NY; Simeon Halliday 75 shoemaker VT; Sarah M. Halliday 67 NY; Sarah J. Smith 17 NY.
1880 Census Seneca Falls, NY: Joseph Eggleston 56 Wood turner, NY NY VT, md; Emma 47 wife NY VT NY; Sarah Jardine dau 26 NY md; Harry Jardine 8 NY; Addie 6 NY; Emma 4 (mo) Feby; Elizabeth Orman adop dau 12; Simeon Holliday 86 father-in-law VT; Sarah Ann Holliday 77 mother-in-law NY. (Next household is Wm Birch family, son Lewis later husband of Elizabeth Birch of newspaper notice – adopted daughter Elizabeth?)
Children of Joseph Eggleston:
Sarah born 1854 NY – Sarah J Smith 17 in 1870, possible daughter of Emily Holliday by previous marriage.
Elizabeth (Orman), adopted daughter born 1869
ELIZABETH BIRCH and SARAH SMITH JARDINE
The Elizabeth appears to be the Elizabeth H. Birch to whom the Legal notice was addressed to. She appears to be the "adopted daughter" of Joseph and Emily in the 1880 Census – Elizabeth Orman age 12.  She also appears to be the Elizabeth age 1 in 1870 Census with the family. In that census is also Simeon and Sarah Holladay and Sarah J. Smith age 17. At first I wondered if this Sarah was the unwed mother of Elizabeth whom Joseph and Emily later adopted. She appears to be the Sarah Jardine who was with Joseph in 1880 with 3 children, but no husband. (In 1892 in Geneva are James and Sarah Jardine with 6 children. In 1900 Sarah and James Jardine with 4 children.)
I found in the 1850 Census Waterford, Saratoga Co. the Simeon Halladay family with Emily Smith 18 and Henry Smith 25 with "married within the year". It appears that Emily married Henry Smith and had daughter Sarah in 1853 in Saratoga County (1855 says she was born there).
In 1860 Joseph is with his mother and sisters, so I wondered where Sarah would have been if she was the daughter of he and first wife Sarah. In 1860 the Holladays were in Seneca Falls without anyone else with them. I can't find Emily and Sarah in 1860.
After Joseph's wife Sarah died, he married her sister Emily who had this daughter Sarah Smith. I think there is still some possibility that Sarah Smith was the mother of this Elizabeth who is with the family from age 1 in 1870 and then is listed as Elizabeth Orman adopted daughter in 1880. If Sarah had her at age 17, her parents may have just raised her? I couldn't find an Orman family anywhere near them.
Charles A. Eggleston was born about 1831 NY. Charles married Harriet Feeck. She was born 1835 in New York.
1870 Census Auburn, Cayuga, NY: Charles A Eggleston 38 NY Painter; Harriet 36 NY; Frederick 16 NY; William 11 NY; Lillia 6 NY (Lillian should be 2).
1880 Census Corning Steuben, NY: Sarah Moore 82 keeping house; Lilly Egliston 16 NY servant; Charles Egliston 49 NY painter 6 mo unemployed; Harriet 45 wife; Frederick 26 NY son painter; William 21 NY son painter, Lena 23 dau-in-law border.
1900 Census Buffalo, Erie, NY: Ulyses Berry June 1868 32 PA; Lillie I Jan 1868 32 NY 11 yrs md 6 children-3 living; Robert Oct 1889 10 NY; Daniel Jun 1887 13 NY (should be 3 bn 1897); Ethel Mar 1900 3/12 NY; Harriet Eggleston mo-in-law Mar 1834 66 wid NY (father born Germany MotherNY).
1905 NY State Census, Buffalo: Ulyses Berry 35 painter; Lillie 34; Robert 16; Daniel 9; Edith 1(bn 1903); Harriet Eggleston mo-in-law 70. (Next door to George Emmesser, Edward 18 (13?).
1910 Census Buffalo, Erie, NY: Less G Berry 41 PA 20 yrs md; Lilly I 40 NY 5 children-2 living; Daniel L 13 NY; Edith I 6 NY; Harriet Eggleston mother-in-law 77 NY 5 children- 1 living. (Less, Lillie, Daniel & Edith occupation gymnasts – stage).
1920 Census Buffalo, Erie: Lester Berry wid 50 PA; Daniel son 23 NY; Edith dau 16 NY; Mary Burt 41 housekeeper.
Marriage record: Edith Irene Berry age 18 (bn 1803) of Dunkirk, Cautauqua, Co md Edward Charles Emesser (of Buffalo) age 29 (bn 1892) married 29 October 1921 in Dunkirk. Parents of Edith – Lester Grant Berry and Lillian Eggleston, parents of Edward George Emesser & Elizabeth Edwards.
Children of Charles Eggleston & Harriet:
Fredrick G. Eggleston born about 1854
William P. Eggleston born about 1859                                                                   Lillian Eggleston born January 1868. She married Ulysses (Lester) Grant Berry
Laura Eggleston was born 1835 Auburn d. 21 Feb 1905. Laura married Fidel Turney. It appears that Laura had no children.
1855 Census Watervliet, Albany, NY: Fidel Turner 23 Germany, shoemaker 4 yrs resident; Laura 20 Cayuga weaver 8 yrs resident; Dorcas Hallis sis 41 Wash Co married 8 yrs resident.
(1847 Laura and Dorcas in Albany – Cynthia's daughter Permely born Albany 1850)
1860 Census with Joseph.
1870 Census NY: Fidell Turney 38 Wurt; Laura Turney 35 NY; Laura Eggleston 76 VT.
1880 Census Seneca Falls, NY: Fidell Turney 48 Wurt, moulder; Laura 45 NY parents bn Mass, VT; Dorcas Hallas 66 sis-in-law.
QUESTIONS REMAIN
Of course, there are still questions and the possibility I may have misplaced this family. These are some of my questions:
In the Church records, Nathaniel was mentioned as brother of Oliver and Laura was mentioned separately regarding the Oliver issue, with no relationship stated. Obvious both knew Oliver well. It does not say they are husband and wife. It mentions Edward and wife, but doesn't name her. Was Laura named separately because she was a member of the Church and Nathan[iel] was not? Or was it noted separately because they testified at different times?
Nathan was in Marcellus 1810 with his father Joseph and other family members, but he did not own land there. He had a wife and 4 small children in the 1810 Census, yet these nine listed children of Nathan and Laura were all born after 1810. The 1865 Census where Laura was with Cynthia and Andrew Bradley, indicates she was the mother of 10 children. It appears there is a missing child, who may have been born before 1810 and been one of those in the 1810 Census. Did this child die and therefore was not mentioned in other records? Or was Nathan married previously with other children by a first wife? The birth locations of some of the children might indicate that Nathan went back and forth between Marcellus and Washington County. There were other family members still there. If Laura came to Marcellus shortly before 1817 when she was mentioned in the Church records, (Or by 1815 when Cynthia was born there) it would make sense that Miriam and Dorcas were born in Washington County.