Melvin Eggleston was born April 7, 1922 in Eden, Utah, the son of Joseph S. and Talitha Cuma Cheney Eggleston.
Melvin Eggleston was born and raised in Eden and went to the same schools as the others. Melvin's special talent was his personality, almost everyone liked him. He did have one fight, but that person became a friend. When he was going to Huntsville he tried to get Dale and me involved with his girlfriend's sisters. He was active in sports.
He played the tuba in the school orchestra. After school he was pretty much on his own. He tried many things including driving a Taxi. I never figured that out because of his age.
During World War II, Melvin enlisted in the Marines. After boot camp he got involved with the orchestra and played a little with them but there was too much competition. After a major problem, he got a job as a driver for the Colonel in Hawaii. After another problem, he was sent to New Zealand and was trained for Island hopping. While there he got a jeep and drove over the area naturally finding friends or making friends. From there he was involved in taking three islands. Then on Guam he got hit. The shell tore the skin off his back and left shrapnel in his leg. The medics took one look at him and decided that he was gone so they left him. His companion and friend picked him up and put him in the ambulance. When he got to the Doctor he said it probably was good that the medics did not treat him. They would have done more damage. His back was still solid and the skin could be stretched over the bones. He had shrapnel in his leg for the rest of his life. He received a Purple Heart.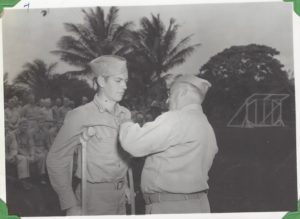 Melvin married Maxine Ann Ewaldt on April 21, 1946 in El Monte, California.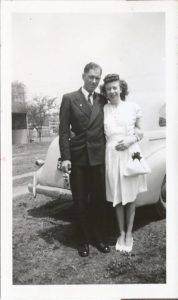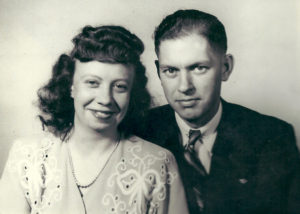 Mel and Maxine made their home in Montebello, California, where they raised their sons.
After his recovery from his war injuries, Mel tried to do the work Leon had been doing, but that did not work out. He got a job driving a delivery truck for an appliance manufacturer. He worked for the same company but it changed several times. One day David had been along the beach in Southern California and told him there was a small trailer park across the road from the beach in San Clemente. He told him he should get a small trailer and park it there. That is what he did and we enjoyed visiting them there. They later bought a double wide mobile home with a view of the ocean. After they retired, they moved from Montebello to the trailer park in San Clemente.
Melvin passed away peacefully in his sleep on May 2, 2016.