I knew very little about Mariett Farley, Orson Hyde Eggleston's second wife, until I met Donna. She shared with me some photos and also a biography of Mariett's daughter Vedia, and a biography written about Veda by her daughter Fern. From these and a little more digging, I have learned a little more about Mariett.
Early Life of Mariett Orinda Farley Eggleston
Mariett Orinda Farley was born August 17, 1855 in Ogden, Weber Utah, a daughter of Winthrop Farley and Angeline Caulkin. She was listed as Maryetta age 14 in the 1870 Census of Ogden in the home of her father Winthrop Farley, who was a blacksmith. The Farley family migrated to Utah in 1850.
Marriage to John Taylor Heninger
Mariett married John Taylor Heninger April 14, 1873, then divorced him before marrying Orson. They had one son Henderson Taylor Heninger born May 19, 1874.
Becoming a Plural Wife
Mariett married Orson Hyde Eggleston July 11, 1879 in Salt Lake City. She was his second wife. Orson had married Constant Stephens December 4, 1886. He later married Annie Christine Johnson. In the 1880 Census Orson was living in Eden, Utah with first wife Constance.
In 1885 Orson settled Afton, Wyoming. There he had homes for all three wives, according to Veda they were a couple of blocks apart. Orson would spend a week with each family. The family members saw each other frequently. Veda recalled that the three wives "were good friends and got along well".
Mariett and Orson had ten children: Nellie was born November 9, 1880 in Eden, Utah; Clara was born April 10, 1883 in Eden; Constance Ann was born April 17, 1885 in Eden, shortly before her father headed to Star Valley; Asa Winthrop was born January 27, 1888 in Afton, Wyoming; Rachel was born July 1, 1890 in Afton; Ezra Calkin was born December 4, 1893 in Afton; Wilford Elwood was born October 20, 1895 in Afton; Vedia was born July 17, 1897 in Afton; and Lottie Hazel was born August 30, 1899 in Afton.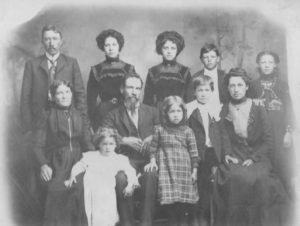 Life in Polygamy
Veda's biography gives some perspective on daily life in their home. She recalled:
"I can hardly remember when my Dad lived home. I do remember having family prayers. We lived in a log house. I don't know how many rooms but seems like we had a long table. I suppose in a kitchen and I remember all of us sitting around the table."
On Sundays, Orson would sit with the family he would be speing the following week with.
After Mariett's father Winthrop Farley died, she was left an inheritance of $1,700. She used the money to build a new home. It had five rooms. Later she had the ceilings lowered and made two bedrooms upstairs. Orson apparently had carpenter skills and built the house. Mariett furnished all of the supplies with this money.
The family had a large garden. Mariett took in washing and ironing to help support the family. Veda recalled that:
"People would bring their clothes to be washed and Lottie and I would take them home in a little wagon. . . We got our water from a good sized creek across the road and would carry it in buckets and fill things up for wash days. Mother washed clothes in a tub and wash board like most people those days and boiled them in a boiler on the stove.

"I don't know how old I was when Mother got her first washing machine. It was when Asa was still home. It was one that had a foot pedal we would push on it. I don't remember her having any other washing machine.

"I remember before that time, Mother wasn't washing as much but was going to help the sick peopel. One day she was called away in the middle of washing so I decided I would help. So I rubbed the clothes and had them in the boiler when she came home. I don't think she was happy so maybe I didn't do too good a job."
Getting Older
Granddaughter Fern recalled:
"As Grandma Eggleston got a little older and could no longer do the back-breaking washings, she started sewing for others for a living. Grandma always cut her own patterns for the clothes she sewed. When the stores started selling patterns and customers would bring a pattern to her, Grandma had a difficult time understanding what the nitches and etc. meant. Mother [Vedia] was able to figure the patterns out, and Grandma relied greatly on her for help."
Fern also related:
"As Grandma's older daughters married and moved away, Aunt Connie to Deweyville, Aunt Rae to Malad, Aunt Nellie to West Jordan, Aunt Clara, etc., Grandma Eggleston would go to help them as their babies were born. . . .Some of the special memories in Mother's [Vedia] life were when Grandma would take her with her as she would travel by team and wagon to her daughters' homes. It would take two or three days to go to Salt Lake and West Jordan, and they would sleep on the ground by the wagon. Sometimes Mother would go with Grandma by team and wagon to Montpelier to get fresh fruit. Mother seemd to treasure these trips with Grandma."
Death of Mariett
In the 1900 Census Mariett and her children were living with Orson, at least at the time the census was taken. Annie Christine and Connie were with their children in the next houses. (Annie listed as Johnson and Connie as Eggleston) Orson's first wife Connie divorced him before 1904. His third wife Annie Christine died in 1909.
It is interesting that in the 1910 Census of Afton, Wyoming, Orson was living with Florence and Theron, Christine's unmarried children. Mariett is listed a few houses away as Mariett Farley and "widowed" head of household with her unmarried children and married daughter Clara next door. Orson died in 1917, leaving Mariett an actual widow.
Mariett died in Provo, Utah June 29, 1926. Her death certificate indicates that she died at the Utah State Mental Hospital in Provo, Utah and suffered from "senile Psychosis". This may have meant that she suffered from dementia due to old age. The former residence listed was on 2nd South in Salt Lake City. Her son Wilford was the informant.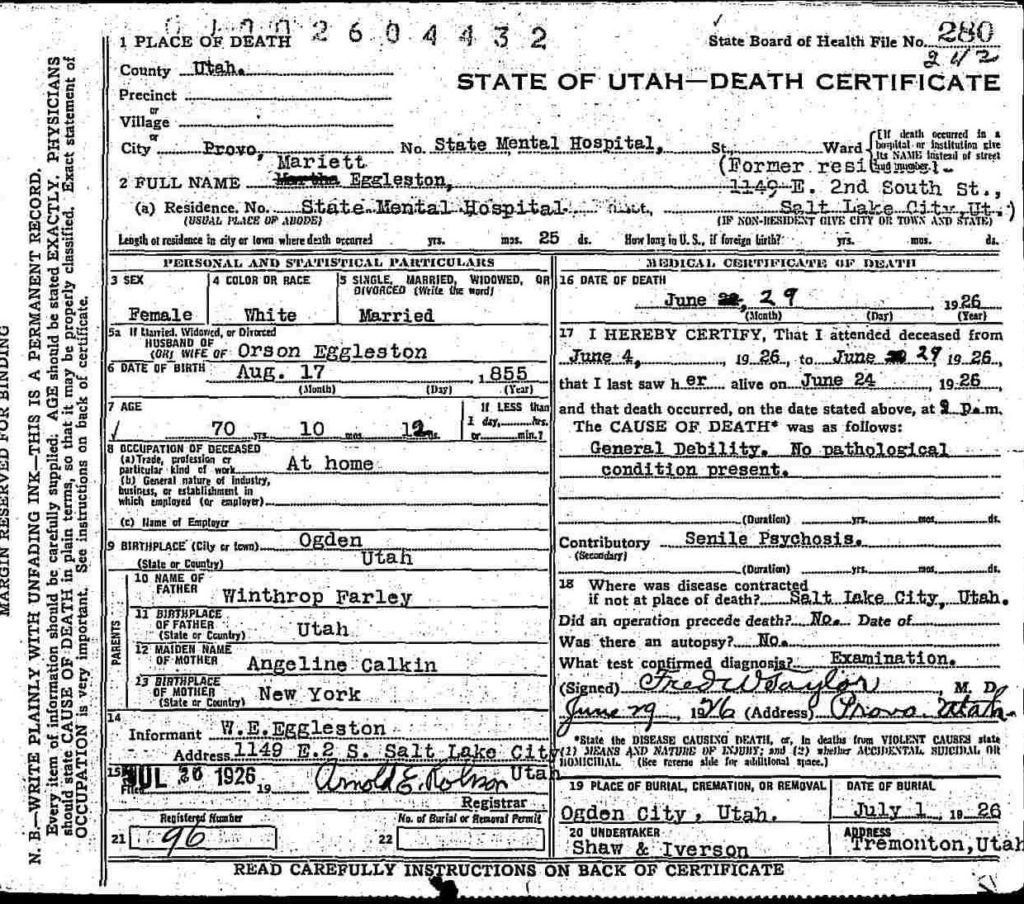 A Funeral notice in the Ogden Standard-Examiner July 2, 1926 included some incorrect information, but indicate she had a nice funeral service in Ogden.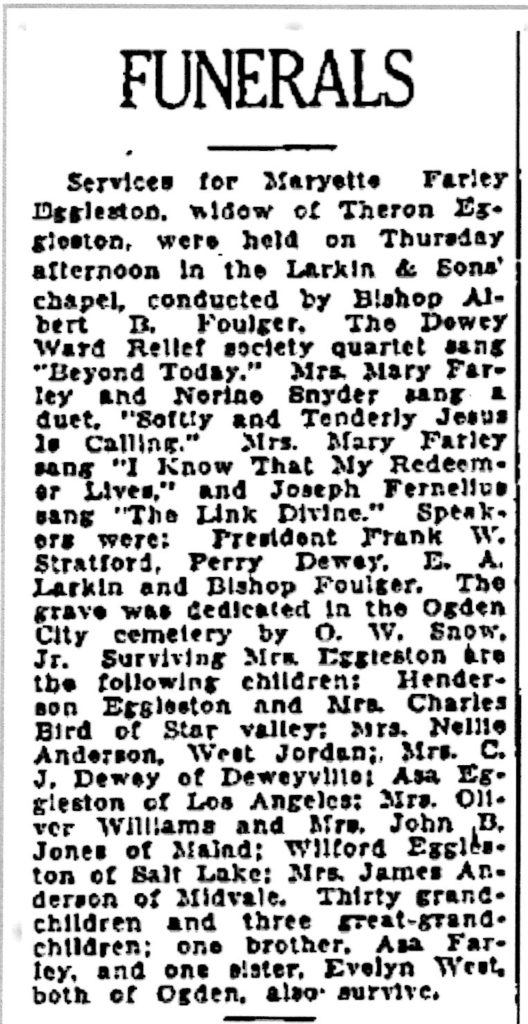 Mariett was buried in the Ogden City Cemetery July 1, 1926. She was not buried near Samuel and Lurania in the plot which Orson most likely originally purchased. She was also not buried near any other family members.