Postcards were an easy and inexpensive way to keep in touch with family and friends in a time when there were few telephones and no internet. In the early 20th Century they were like Social Media, sharing bits of news and often short messages in between longer letters. They were written on postcards showing familiar scenes or with simple greetings. Vedia Eggleston's Postcard Book contained postcards from nearby places where friends and family lived. Other postcards from places further away are shared in another post.
Some from Home in Afton, Wyoming: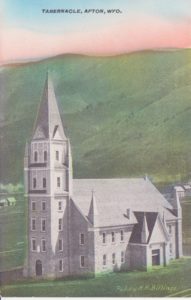 This is the Tabernacle of the Church of Jesus Christ of Latter-day Saints in Afton, Wyoming, Vedia's home town.